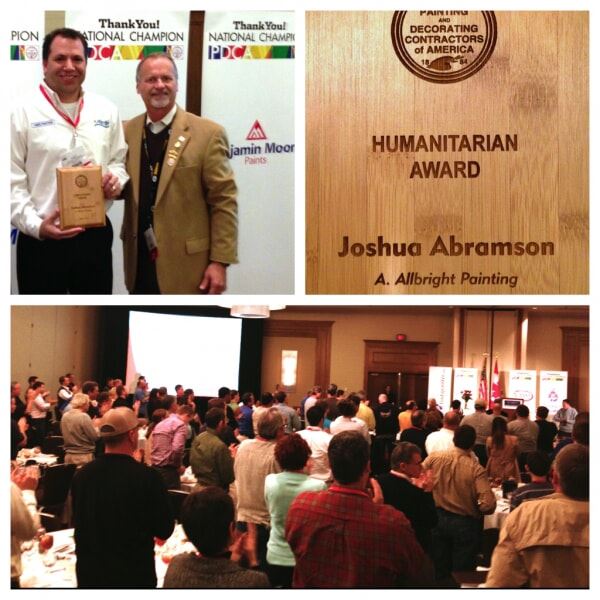 When you are serving someone in need, the best recognition or reward is the surprise and joy on the faces of the recipients; we ask for nothing more. Nevertheless, it is also nice to be recognized! Joshua Abramson, President of ALLBRiGHT 1-800-PAINTING, is pleased to announce that his company has been awarded the 2013 National Humanitarian of the Year Award from the PDCA (Painting & Decorating Contractors of America).
This award is primarily in recognition of their annual Paint-it-Forward charity event, where they give away a free painting makeover each year to a deserving family or non-profit organization. Not only has Josh put significant effort into this exciting event here in the Santa Clarita Valley / Los Angeles area, but he has also spread the word and encouraged other paining contractors to do the same. Paint-it-Forward or similar events now also take place in Oregon, Missouri, Illinois, Connecticut, New York and several other states.
ALLBRiGHT 1-800-PAINTING's commitment to community goes beyond the Paint-it-Forward event. They also hold an annual Paint-it-Pink campaign, which raises funds to help those affected by breast cancer. Their Paint-it-S.M.A.R.T. project provides mentorship and job training for teens of single parents. They also support other community initiatives on a one-time or spontaneous basis as they have opportunity (such as when several painters and office staff volunteered their time to paint an animal shelter).
At ALLBRiGHT, they believe in community, and also in helping the painting trade as a whole. That is why Joshua Abramson is invited to speak and teach around the country to other painting contractors. Joshua Abramson says, "I'm always filled with joy when another painting contractor shares with me the story of their first Paint-it-Forward event. It means so much that the work we do isn't temporary, but rather leaving a legacy. When I first started my business, others gave so unselfishly to me, and it's in that spirit of gratefulness that I love speaking and teaching at the PDCA conventions and other trade events by Sherwin Williams, Dunn Edwards and Glidden Professional Paints."
Here is a link to the Signal Newspaper where they featured us in the business section for receiving the National Humanitarian Award by the PDCA (Painting and Decorating Painting Contractors of America).
ALLBRiGHT 1-800-PAINTING has served the Los Angeles area since 1987, and they look forward to many more years of continuing to do so. If you have any ideas on how we could further engage the needs in our community, feel free to contact us by phone or through our website.