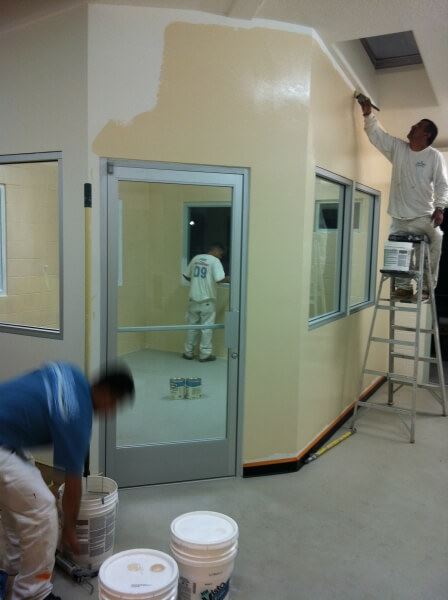 At ALLBRiGHT 1-800-PAINTING, we love serving our community. Normally, that involves serving the people around us, but sometimes, we'll even serve cats! One of our more unique service projects involved painting the walls and installing epoxy flooring in the Cat Habitat of the Castaic Animal Shelter.
Using paint donated by Vista Paint, five of our employees trekked out to Castaic and donated their time for this project. Two nights in a row, they showed up after their regular day shifts and repainted the walls in the Cat Habitat, brightening up the environment.
Even more important than the paint on the walls was the new epoxy flooring we installed. This durable coating is easy to clean and prevents microbial growth that could cause sickness and spread disease. Several of our painters received training and gained experience in epoxy floor installation as a bonus part of this project! 
Josh Abramson, the owner of ALLBRiGHT 1-800-PAINTING, wishes to thank Jose, Carlos, Moe, Arturo, and especially Stephanie, who organized the event and helped to paint. Thanks also to Bran Brower, of Vista Paint, and thanks to all the staff at the Castaic Animal Shelter, for all the work you do.
Allie, one of the employees of the Castaic Animal Shelter, writes, "What a wonderful thing you, Josh and all of your employees at ALLBRiGHT do with the "Paint It Forward" thing.  Your company is so giving to people and causes that are less fortunate.  You give to their quality of life, whether human or animal.  God Bless You All.  You definitely have a wonderful group of employees." In regards to the employees, Josh couldn't agree more!
Serving Castaic, the Santa Clarita Valley and the whole Los Angeles Region, ALLBRiGHT 1-800-PAINTING provides commercial and residential painting services. Using premium products and superior techniques, our professional painters are second to none in the Los Angeles area!