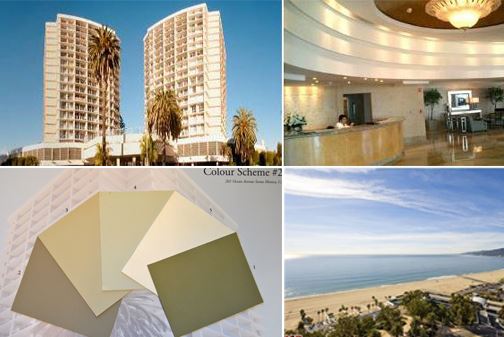 Ocean Ave. Color Consultation
ALLBRiGHT 1-800-PAINTING was just commissioned to select the color palette and specifications of paint materials for the Santa Monica Ocean Towers for their re-image project. These iconic twin towers sit right on some of the most highly sought after real estate in the world. They sit high upon a cliff right off of Pacific Coast Highway, at the corner of Ocean and San Vicente Blvd, overlooking the Santa Monica Pier. The architectural design firm Perkins Eastman sought ALLBRiGHT 1-800-PAINTING for its expertise in paint and color consulting. The owners of this building understood that it's important to not only pick the right colors but also pick the right colors that will be relevant in 15 to 20 years. If they don't pick the right colors for this premier location, it could be disastrous and costly. Also, they wanted to be sure that the best paints will be used on this project, so that the paint looks as good as the color is going to last.
With this property being so close to the ocean, it's important to specify the right paints that will hold up to the harsh beach elements. Not only that, but it's just as important as to which repair and sealant products will be used. Another good reason to hire an accredited panting contractor, one who keeps up on the ever-changing rules and regulations on new paint products.
We've been told that we set the standard pretty high when it comes to helping our client's select the right color(s). We believe it's one of the most important aspects to our painting business. That is why ALLBRiGHT 1-800-PAINTING has developed it's own exclusive colors and color combinations to help our clients navigate the process of selecting colors. Typically a homeowner or business owner will have a little trepidation about color, and who can blame them, color is a science. Along with the vast amounts of color choices out there, it gets a bit overwhelming. Typically painting contractors are no different when it comes to paint colors. They would rather not have to deal with color. They wish they could just say to their clients, "please just pick a color and tell me where to paint it." At ALLBRiGHT 1-800-PAINTING, we encourage our clients to talk about color. We get excited when color is important because that's another area in which we shine. Expect brilliance from your painting contractor!