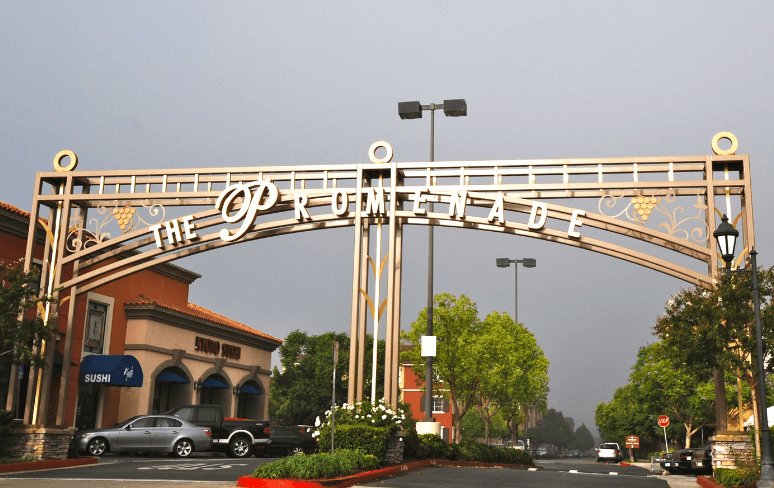 As a residential and commercial painting contractor, we are privileged to provide painting services for a huge variety of clientele. From condos to malls to roller coasters to yachts, every project is unique. One very visible commercial painting project we completed in Valencia, CA is the Promenade Shopping Center.
This painting project contained four main sections. The smallest portion of the job was painting the green wooden shade trellis on the exterior of Party City. The surface preparation and the product selection are important on exterior wood painting like this, so that the paint will hold up against the bright sun.
The largest part of this commercial painting job was the metal shade trellis over the truck loading area. While the job is simple in some respects, it requires special attention to safety to avoid falls. Also, extra care must be taken to avoid dripping and overspray, so that the paint job causes no damage and the edges are sharp and crisp.
The most visible part of the job is the metallic Promenade sign. Because it is so visible and the paint is so glossy, a careful finish is essential. Also, we needed to work safely yet quickly, so that we would not block traffic any longer than necessary.
finally, we also budgeted some time and materials for this project so that we could do some general touch up painting around the walking areas. This kind of exterior paint maintenance keeps the paint looking fresh and clean, and extends the life of the overall paint job.
Commercial painting is always an exciting challenge, with so many factors to keep in mind. Always delighted to serve, ALLBRiGHT 1-800-PAINTING offers commercial and industrial painting services to the Los Angeles area, including Valencia and the Santa Clarita Valley, Anaheim and all of Orange County.