Professional Color Consultations in Valencia
ALLBRiGHT PAINTING Will Help You Color Your Way to Happiness
Choosing a color scheme is a great way to infuse your home with elegance and individuality, ensuring that it suits your personality and lifestyle. Yet for many homeowners, the sheer variety of colors and combinations is intimidating and overwhelming. You don't need to abandon your dreams, however; ALLBRiGHT PAINTING is here to help!
As a full-service Valencia painting company, ALLBRiGHT PAINTING is pleased to offer professional color consulting in Los Angeles. Our experienced consultants and designers can help you craft the perfect color palette for a single room, your whole house, or even your offices. This valuable service ensures that your new painting project achieves a look and feel that reflects your unique taste and style, and can help to bring a new sense of life and vibrancy into any space.
To schedule color consultations in Valencia or throughout Los Angeles today, call (661) 464-0771.
ALLBRiGHT PAINTING Offers Exclusive Color Palettes
In addition to our expertise in using the best products from premium paint companies, ALLBRiGHT PAINTING has developed its own exclusive set of paint colors, as well as a presentation style that is unlike any other. We can help even the most unsure clients when it comes to selecting the right colors.
Our unique, innovative Colorchoice™ program helps precisely narrow down the colors to your very favorite choices. ALLBRiGHT PAINTING's paint colors have been nationally recognized and featured in Better Homes & Gardens magazine, and are sought after by many professional designers and painters across the United States.
For more information on color selection, please visit Sherwin-Williams, and check out a small sample of our unique paint colors below.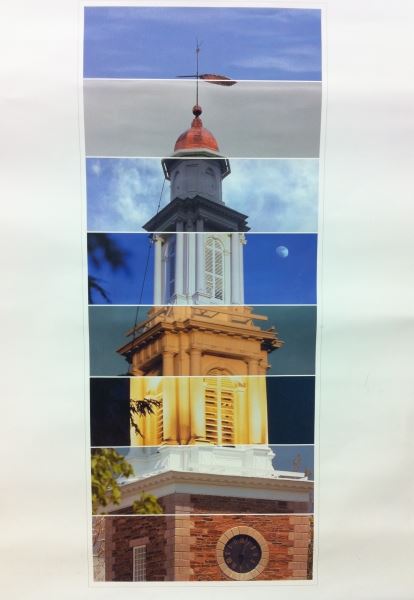 How Light Changes Color
Light has a dramatic effect on color. Have you ever gone to the paint store and picked a color that you thought would be perfect for your home and found out it didn't look right when you got home? Or even worse, painted the room and loved the color during the day only to hate it at night?
This picture on the right clearly shows us how color changes in different lighting, even from hour to hour. Notice the dramatic color shifts from morning to dusk. This is the number one reason why most of our clients are usually concerned about picking the right color.
We love to help with color. It does take an expert who has studied color to skillfully navigate through the different light sources and reflections and how it changes color.
Meet Our Color Consultant, Suzi Kades
Originally from Philadelphia, ALLBRiGHT PAINTING Color Consultant Suzi Kades has been obsessed with art and design since early childhood. Trained in fine art and illustration at the prestigious Tyler School of Art and Parsons School of Design, and completing the certification program in Color Consulting at IACC-NA, she has enjoyed a long career as a muralist and color designer.
Her passion for creating environments through the strategic use of color has transformed countless homes and businesses throughout LA and surrounding areas. She is a member of the International Association of Color Consultants (IACC) and the Inter-Society Color Council.
"Color consulting is the most fascinating work. It involves the sciences and the senses, intuition and cognition, and is equally fluent and static." — Suzi Kades
Why Trust ALLBRiGHT PAINTING for My Color Consultation?
Since 1987, ALLBRiGHT PAINTING has been trusted by homeowners and business-owners across LA County, Ventura County, the Santa Clarita Valley, and the San Fernando Valley. When it comes to paint, we not only offer the most beautiful colors, we also provide long-lasting materials, and are EPA-certified—so you know the products we use are safe. Our skilled painting technicians strive to get the job done ASAP, offering same-day service and even 24/7 emergency availability. We also promise to listen to your needs throughout the service process, providing consistent communication so you always receive the results you want and deserve. Call today for affordable specials and financing options on residential properties, and remember, ALLBRiGHT PAINTING is dedicated to Painting Happiness™.
For paint colors that are sure to brighten up your life, call (661) 464-0771, or request a FREE quote online.
An amazing crew from Allbright hands down!! - Brian K.

Excellent Company and Excellent Workmanship - Michael S.

Marvelous Work! - Mark G.

Always Ready to Jump in and Provide Any Help - Frank J.

They Worked Quickly and Cleaned Up! - Terry Y.
Latest News & Tips
Take a Look at Our Blog