Wrought Iron Painting in Los Angeles
Transform, Protect & Preserve Wrought Iron
When wrought iron looks good, it looks great. But when it needs TLC, well, few things will diminish the appearance of your property faster. Over time, the elements (and moisture in particular) will cause fading, unsightly pitting, and rust in your wrought iron features.
That's why ALLBRiGHT PAINTING offers Los Angeles wrought iron painting services not just for a fresh look, but also to truly restore and protect surfaces.
Our professional painters will help your wrought iron pieces look great for years to come, and we are proud to provide wrought iron and other exceptional painting services to home and business owners in Valencia, SCV, SFV, Ventura County, and the Greater Los Angeles area, so do not hesitate to give us a call. Remember, ALLBRiGHT PAINTING is the one company across LA County with the skills, experience, and reputation to always get the job done.
Call ALLBRiGHT PAINTING today at (661) 464-0771.
Our Wrought Iron Painting Process
Rather than just painting with short-term improvement in mind, ALLBRiGHT PAINTING's wrought iron painting and restoration process takes time to get the job right. Wrought iron can greatly enhance the look and feel of any community.
However, without regular maintenance, wrought iron fences, railing, gates, staircases, and doors are susceptible to fading, pitting, and rust when exposed to humidity, rain, dirt, and damage from normal everyday use. ALLBRiGHT PAINTING's goal is not only to reduce that natural damage but to preserve the wrought iron on your property so it is better able to face potential damage in the future.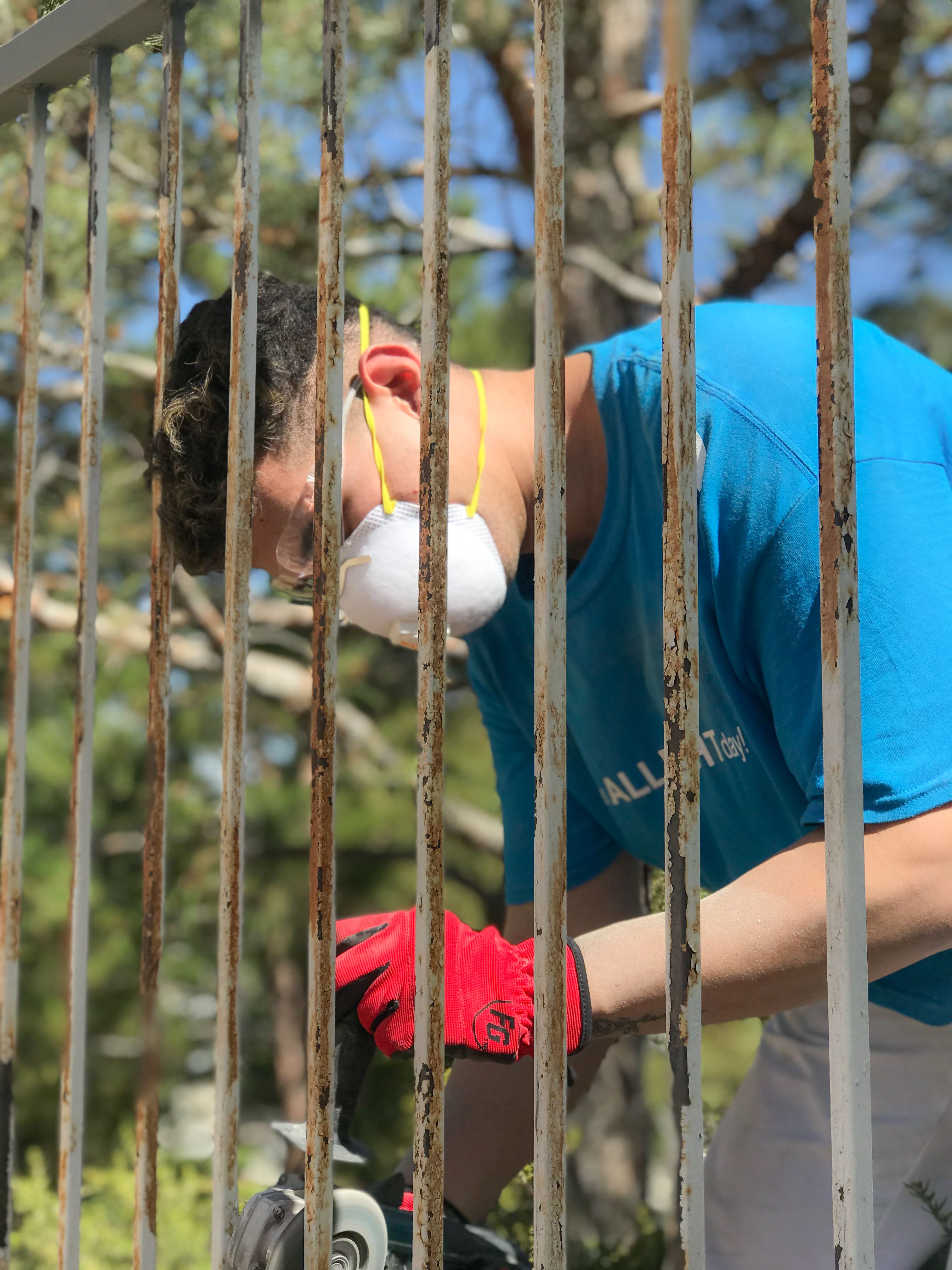 Our Los Angeles wrought iron painting process includes:
A thorough cleaning to remove contaminants
Sanding
Removing the rust and failing paint
Applying the ideal product for your needs, ensuring proper adhesion and a long, beautiful life
Restore Your Wrought Iron to Look Brand New
To avoid costly replacement, hiring a professional painting company to add another layer of protective paint can work to keep the wrought iron in your HOA community looking new and maintained.
While you could shop around and get quotes from various contractors, ALLBRiGHT PAINTING has three decades of experience, making us one of the most well-known, industry names in the area. More importantly, we have specific experience serving HOAs, making our commercial painting technicians an ideal choice for your next wrought iron painting job.
With free estimates available to all clients, there's never a bad time to call ALLBRiGHT PAINTING to see if we can save the wrought iron in your community.
Professional Service, Guaranteed Work
If you're looking for guaranteed work from experienced experts, ALLBRiGHT PAINTING is the company to call. When you hire our wrought iron painters in Los Angeles or the surrounding areas, you can expect clear, prompt communication. We promise to make sure you feel empowered throughout every step of the service process, and to stay on-schedule so your property can return to normal as soon as possible, Our trained craftsmen are fully equipped with all the latest tools and technology needed to take care of wrought iron and more. And with ongoing maintenance offers, we can also help you manage your equipment moving forward. Call to see if same-day service is available in your area, and remember, we are available 24/7 for emergencies!
Dial (661) 464-0771 now for ALLBRiGHT PAINTING, or click here to send us a message online.
An amazing crew from Allbright hands down!! - Brian K.

Excellent Company and Excellent Workmanship - Michael S.

Marvelous Work! - Mark G.

Always Ready to Jump in and Provide Any Help - Frank J.

They Worked Quickly and Cleaned Up! - Terry Y.