Valencia Painting Contractor
You Can Always Trust ALLBRiGHT PAINTING!
For over 30 years, our licensed and insured painters have gone above and beyond to provide services backed by the values of integrity, improvement, positive attitude, and happiness. We are upfront about the work we offer, i.e. what you see is what you get—no hidden fees, no last-minute surcharges, no tricks of any kind.
We always strive to find ways to get better, providing our customers with the latest technology and best materials. We are even EPA-certified so you receive the safest painting service available. Our company has achieved an A+ rating with the Better Business Bureau, meaning we maintain the highest standards, and show every customer the respect they deserve. You can count on us to deliver long-lasting work that's designed to make you feel better about your property for years to come. In fact, Painting Happiness™ is our slogan!
To learn more about ALLBRiGHT's Valencia painting services, call (661) 464-0771.
Comprehensive Residential Painters in Valencia, CA
At ALLBRiGHT PAINTING, "good" is never good enough. Our quest for improvement has led us to expand our service options in ways other companies can't or won't. We can offer painting for your whole house, or one-day painting for smaller projects. In addition to being equipped with the most advanced tools and technology, we also employ honest and experienced Valencia home painting technicians who are genuinely happy to provide exceptional service.
ALLBRiGHT PAINTING proudly offers the following Valencia house painting services:
In the busy times we live in, ALLBRiGHT is all too aware of the importance of convenience. That's why our home improvement options go beyond standard painting services—so you can get as much out of our company as possible. Call today to take advantage of our garage flooring services, which use pristine polyurea coating, rather than less durable epoxy.
Call today for expert painting contractors in Valencia and experience painting service with a "we, not me" attitude.
Top-Rated Home Painters in Valencia
This beautiful home on the right is located in the quiet neighborhood of Northbridge in Valencia. The community has an HOA that governs what colors are acceptable to paint on the exterior. Our team at ALLBRiGHT was happy to provide our customer with next level service in painting her home's door.
We received the following unsolicited email from the client below after our work was complete:
"Just wanted to thank you again for taking care of the front door. Miguel re-painted it on Tuesday and I really like the new color. Very very happy with the way it turned out. You and your staff/crew have been so great since day one! Thanks for everything." - Nicole
5 Great Questions to Ask Your Commercial Painter in Valencia
Let's just put it right out there: it can be hard to know if you've found a quality home service professional! This can be especially difficult when you are looking for a commercial painter; someone you need to be able to rely on and that will help you to look good in your role as a facilities or office manager as well.
To help you narrow the field a bit, we've put together a list of questions that are important to ask.
What repairs/prep work will be included? – For some painters surface prep is included, and for others it is considered an extra service. With the goal of maintaining complete clarity, ask your professional what specific repairs they anticipate needing to make, and how the billing will be handled.
What type of paint will you be using? Why? – This is a chance to gauge the level of knowledge and care that your painter is bringing to the table. Large or small, we personally believe that every project requires carefully planned and selected products to maximize your painting happiness.
Are you insured? – You never know, so it's always worth checking. Regardless of how neat, clean, and safe a painter may be, being fully insured is just an extra level of necessary protection and responsibility.
Is your scheduling flexible? – Some painters will try to stuff your project into their own scheduling parameters rather than work during the times that are convenient for you. This can create a lot of headaches and frustration down the road.
What do you suggest? – You may have a very specific color scheme that you need to stick to, but why not check the level of creativity and expertise that your painter has? If you have flexibility in your building's style, you may be surprised by what great ideas your painting professional can bring to the table.
Are You Looking For A Quality Valencia Commercial Painter?
At ALLBRiGHT PAINTING, we have had the privilege of serving a huge variety of commercial (and residential) properties throughout Los Angeles and the Santa Clarita Valley. We are fully licensed and insured, experienced, and dedicated to nothing short of your complete painting happiness. Speaking of happiness, we will happily work around your schedule as needed.
Types of commercial painting projects we handle:
And with commercial and residential disinfection services, we make it easy to keep your home or business as germ-free as possible!
Do you have any other questions for us? Why not contact us directly? We would love to hear from you.
Our Painting Projects in Valencia
The Promenade
One very visible commercial painting project we completed in Valencia, CA is the Promenade Shopping Center.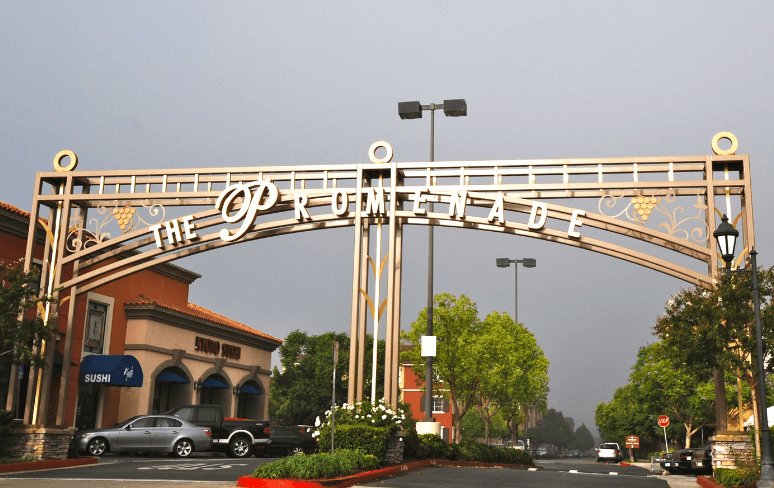 This painting project contained four main sections.
1) The smallest portion of the job was painting the green wooden shade trellis on the exterior of Party City.
The surface preparation and the product selection are important on exterior wood painting like this so that the paint will hold up against the bright sun.
2) The largest part of this commercial painting job was the metal shade trellis over the truck loading area. While the job is simple in some respects, it requires special attention to safety to avoid falls. Also, extra care must be taken to avoid dripping and overspray, so that the paint job causes no damage and the edges are sharp and crisp.
3) The most visible part of the job is the metallic Promenade sign. Because it is so visible and the paint is so glossy, a careful finish is essential. Also, we needed to work safely yet quickly, so that we would not block traffic any longer than necessary.
4) Finally, we also budgeted some time and materials for this project so that we could do some general touch up painting around the walking areas. This kind of exterior paint maintenance keeps the paint looking fresh and clean, and extends the life of the overall paint job.
Goliath Rollercoaster
The "Goliath" roller coaster opened in 2000 at Six Flags Magic Mountain in the Santa Clarita Valley and was designed and built by Giovanola of Switzerland. The coaster is 235 feet at the highest point and offers speeds up to 85 mph. The ride twists and turns for approximately 4,500 feet but lasts only 3 minutes for thrill-seekers! The monumental drops, the twisting 120-foot tunnel, and the sheer enormity of "Goliath" offered several challenges to ALLBRiGHT 1-800-PAINTING, whose painters worked tirelessly in a joint venture with Baynum Painting Inc to finish this paint project before 2010.

The main challenge to be addressed in this project was the height, and we had to use special large equipment that extended 120 feet into the air. All workers wore safety harnesses that provided an extra measure of safety while the painting was being done. To ensure the best possible paint coverage, the roller coaster was painted with a waterborne polyurethane, using A & B components. Since the project needed to be completed before January 1, 2010, the painting was done from sun up to sundown. "Goliath" is now ready for daredevils to ride its newly painted twists, turns, and tunnels! Next time you venture out to ride Goliath, check out its brilliant shine.
A Few Of Our Other Notable Local Painting Projects
Every Little Thing Is Gonna be ALLBRiGHT
Hire ALLBRiGHT PAINTING now, and you can take advantage of incredible specials, financing options, warranties, and payment plans. We provide free estimates to homeowners and business owners, and are currently offering virtual consultations. Our painting pros are known in Valencia and beyond because we truly care about this community, and are always looking for ways to give back. No painting provider is going to be there for you like ALLBRiGHT!
Call our Valencia painting company at (661) 464-0771 to request your free estimate, or contact us online.