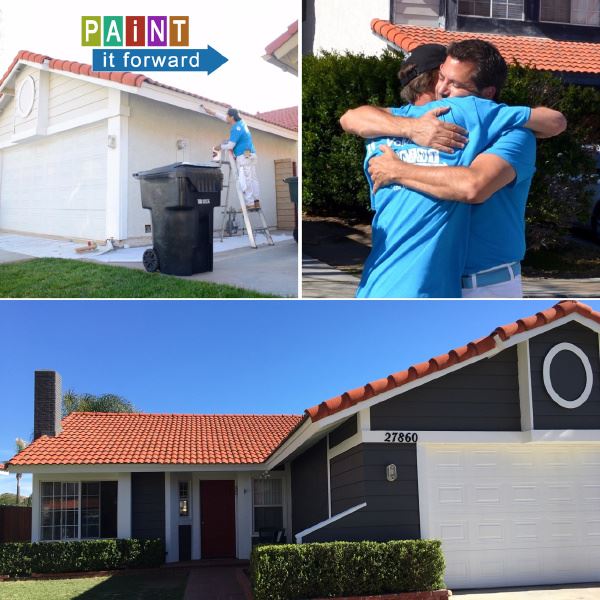 If we had to point to specific events within each busy year of painting that truly capture everything we hope to achieve and offer here at ALLBRiGHT 661-464-0771, it would be our Paint-It-Forward projects. If you aren't familiar with the program, or maybe would like more details, you can find information about its history and Josh Abramson's specific vision on our Paint-It-Forward page. It's also exciting to see how it has taken off and grown on a national scale.
To get right to its heart, our mission is simply to come alongside someone in need and help them in a tangible way.
In this case, for our 10th Annual Paint-It-Forward event, the Scott family was nominated and voted to be the recipients of $10,000.00 of free painting services. Bob Scott and his two sons tragically lost their wife and mother in a car accident last year, and final expenses had prohibited them from painting their home as they had planned before the accident occurred.
It was truly an honor to not only lift this particular burden off of Bob's shoulders but also paint his home with the colors his wife had chosen.
Offering Encouragement, Support, And #PaintingHappiness
Our goal, as we mentioned, is to offer tangible help, but what comes along with this help is what's truly priceless.
"It was an amazing day, full of excitement, happiness, and giving," said Josh Abramson. "Many of the neighbors and neighbors' kids came out to see what was going on and really enjoyed seeing the community rally around one of its own. They were amazed at the transformation right before their eyes."
The air was full of excitement, hope, and fun. The need and circumstances were sobering, but the joy was palpable. As you can see in our slideshow above, everyone was smiling as they worked. It was a reminder for Bob Scott and his boys that they aren't alone, their needs are known, and their community is full of people who truly care about them.
Bob later said that the day restored three precious gifts: pride, time, and love. Pride in his home when he drives up and sees the house that they almost lost, and time with his two sons by not having to spend many long days trying to paint the home himself. Most of all, he says, was the gift of love: the love he and his sons felt when so many people volunteered to paint their home, using the paint colors his wife chose.
For us, that's true #paintinghappiness.
Thank you to everyone who was involved, and to our wonderful team members who dive into these events with contagious enthusiasm. We also would like to thank Dunn Edwards for generously donating the exterior paint we used, and Sherwin-Williams for providing our interior paint. Their wonderful products and supplies were very appreciated, and we know will serve this home well.
And, most of all, we wish only the very best to Bob and the boys. It was truly a pleasure to paint their home.
To offer a small taste of what this incredible day held, we put this video together for you. We hope you enjoy it!
Video Transcription
Bob: She just always wanted a red door. That was her thing. She said, "I've always wanted a red door in my house," and it was her sign of saying welcome to people.
Beautiful blue eyes and a beautiful smile. I think that most people, if they'd do the same thing and shut their eyes for a minute and envision Deb, you would see the blue eyes. You would see the smile and then you would feel her embrace because I know that she was just that way.
Patti: What brought them together was they both really wanted to have children. That's one thing. I think their personalities, too. Debbie's very outgoing personality, I think Bob found very attractive.
Bob: She loved being outdoors and she loved the beach and even fishing. We used to love to fish together. A fun thing for us to do on Sunday afternoons was go ahead and take a drive up to the canyon. Well, on those Sundays, we'd always stop at a spot just above the lake. Deb used to always want to stop there and overlook and see the lake and take in the view. Then have a nice lunch up at the Rock Inn and just have a nice day out, a nice drive out with the family and the boys.
Well, Deb was…I'm smiling just thinking about it…she was outgoing and just such a mom. She grew into basically the neighborhood mom. If there were kids out in front of our house, she was basically out there on our front porch, weather permitting. [Inaudible 00:02:03] if it was raining, she was probably out there, too. She was just part of this community and part of those kids' lives and she really just drew them all in and adored them all. They all adored her as well.
After Spencer was born in 2006, she was diagnosed with bi-polar disorder. With the bi-polar disorder, 100% her drive and her ambition to deal with that in her life was the love of those two boys.
We had all been watching Monday Night Football and myself and the two boys had gone to bed. The next morning, I woke up and the vehicle was gone. There was a couple cigarettes missing and my lighter and her driver's license and our house keys. And then so about noon rolls around and I get a call from Henry Mayo Hospital. They said, "Mr. Scott, this is her. We're breathing for her. You need to get here now."
A jogger had been hiking up Lake Hughes Road and actually looked over and saw the vehicle down in the canyon. She was basically driving up the road there to take a few minutes to herself and go to that spot. Unfortunately she just ended up off the road, probably 200 yards away from that spot.
Patti: When she was in the hospital before we actually lost her, he was saying how much he would have really liked to have painted the house for her homecoming so that when Deb came home, she'd come home to the beautifully painted house that she wanted. So I knew financial-wise or even being just a single dad and everything, he wouldn't be able to do that. What was going through my mind when I found out that he won the ALLBRiGHT contest? Just sheer excitement. I was just so happy, so happy that this was going to happen for my brother.
Bob: The fact that Patti nominated me for it, I didn't think there was really a snowball's chance that I would ever actually win that and it took a huge amount of pressure off of me because it was something I wanted to do myself so bad. But I was just struggling with the fact that how am I possibly going to make this happen? And now it's happened.
Everybody that sees the house will know that great things have been done and see it in Deb's colors. It all just plays such a perfect role and I just can't thank them enough. It's just beautiful. Every time I see that red door, I'm going to see her. I'm going to see Deb. I'm going to know that she's always here with us, with those boys and carrying on in our lives.