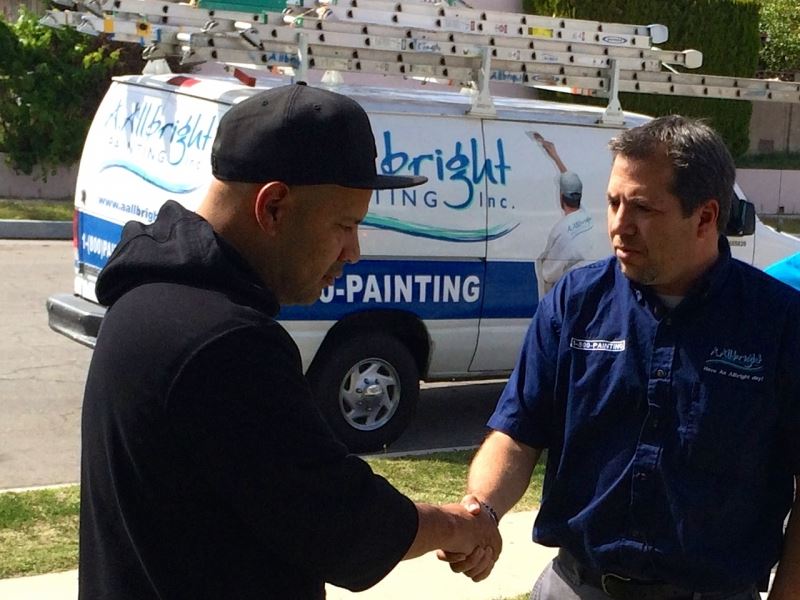 Joshua Abramson congratulating Mr. Espinoza
ALLBRiGHT 1-800-PAINTING is excited to announce this year's 9th Annual Paint-It-Forward $10,000 Painting Charity recipient, The Espinoza Family!
This year our winner was nominated by a family friend who knew ALLBRiGHT 1-800-PAINTING could help paint a brighter future for the Espinoza family.
On March 25, 2011, Alma was diagnosed with breast cancer and had a double mastectomy done on May 21, 2011. She had two chemo therapy treatments from June to October 2011. Alma later on was having breathing problems and found out the cancer was back and in both lungs. She lost most of her left lung, and at this point was in and out of this hospital constantly. By September 2013, Alma began four different treatments that had not helped. The cancer had spread to her liver. Alma recently lost her battle with cancer leaving behind her husband with four children last year. Even when times were very tough, Alma remained strong and positive.
Manny Espinoza explained Alma was getting ready to paint their house but when she began undergoing several different treatments, painting her home was placed on hold. She had already started picking out her favorite colors and it was a dream of hers to get her family's home painted. Manny shared that even though Alma is no longer with us, "We are still receiving love from her." ALLBRiGHT 1-800-PAINTING is happy to make this dream come true for Alma and the Espinoza Family.
The Paint-It-Forward Charity Giveaway was started in 2005 by ALLBRiGHT employees to be able to give back to the community in a way that seemed appropriate. We wanted to be able to help those in need by using the talents we have been given. Each year ALLBRiGHT 1-800-PAINTING's staff and customers consider all the worthy nominations that are sent in and they then vote on the family or non-profit organization that they feel is the most deserving.