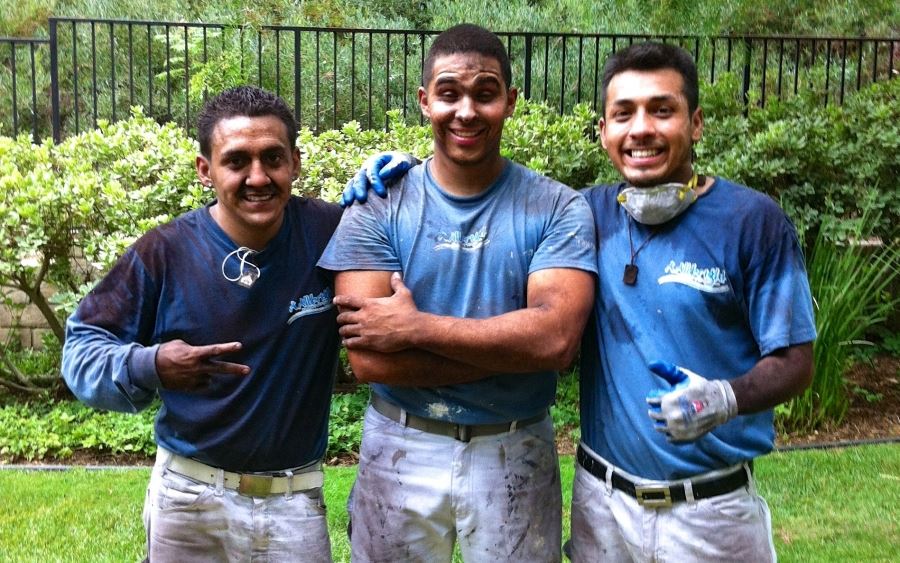 You wouldn't expect these guys to be smiling after a long day spent sanding and prepping miles of painted black wrought iron railings on a very large property. The HOA is managed by a great property management company in Santa Clarita Valley called Crown Management. This is a little example of how our painting crews live out our "Painting Happiness" motto while working on HOA's. They love what they do, even after a hard day that was full of sanding. In fact, we received an email from the property manager on this association saying, "You have great employees…they are so nice! (ran into them on the landscape walk yesterday) – Sam."
This 30-building (480-unit) complex has a black wrought iron fence (partially shown behind the crew in the picture) which was in very bad shape with the previous coating (applied by another painting contractor) failing so severely that it was just turning into powder. Many areas were also rusted through beyond what a painter can repair. We have a welder going ahead of us replacing many sections of wrought iron fencing. These extensive repairs and prep work are costly and could have been avoided if a higher quality paint product was applied initially.
When the going gets tough, the tough get going, but here at ALLBRiGHT 1-800-PAINTING, we always smile while going the extra mile.
Learn more about our wrought iron painting service.