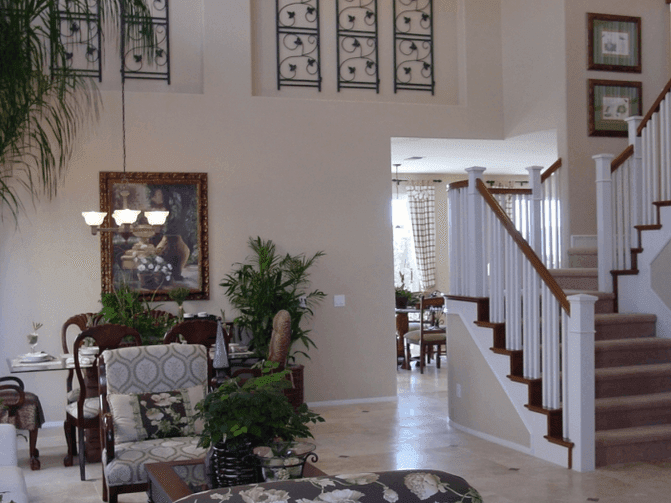 Whenever you undertake a project in the home, it is important to go about it in the right order. For example, you need to mount a coat rack firmly to the wall before hanging coats on it, otherwise, the results will be thoroughly unsatisfying! This is also true of choosing colors for painting your home interior. If you start in the wrong place or go about it with the wrong method, you might end up very unhappy with the results. So how do you choose colors for your home interior?
Choosing Paint Colors: Begin with a Connecting Areas
The important consideration when choosing the color for your home is that all of the spaces have continuity and a sense of connectedness. Otherwise, the process of walking from one room to another will cause a visual jolt, rather than a smooth transition. The way to achieve this harmonious effect is by beginning with the connecting areas.
Connecting areas of the home are those which have walls that extend into other areas of the home, such as the foyer or entry area, hallways, and stairwells. In homes with a very open floor plan, the main gathering room of the house can also be considered a connecting area. The color you choose for the walls in this space is going to branch out into the other areas of the home, providing a consistent foundation that you can build on in each separate area of the house.
Generally, the connecting areas of the home are not places to express extreme individuality. Begin with a relatively neutral color that is easy to coordinate with. Use something lighter, rather than dark, and avoid anything too close to white. Here in the Los Angeles area, earth tones are a popular choice, as they keep the visual temperature at a cooler level and are easy to build on. The tan, beige and grey color families are a safe place to start, and they can come in warmer or cooler tones, with hints of yellow, brown, blue, or green.
If you would like to use a variety of colors in the home, the best choice for your baseboards, trim, and crown moldings is white. This provides a crisp, classic look that makes a satisfying visual border and transition between spaces. Once you have the foundation and trim colors chosen, it is time to branch out into the other areas of your home.
When you choose colors for rooms that are self-contained, you have a large degree of freedom when you choose your colors. Since the rest of the house will not be seen from that room, and the room is not seen from other parts of the house, the color choices in the room can be distinct in character. Nevertheless, use your foundation color as a guide, and use colors that coordinate with it in the room. The white trim will also help maintain a feeling of unity in the house.
If your rooms have glass doors or open doorways, you will want to closely tie your color choices to the foundation color. The different rooms of your house do not need to match each other unless you can see into one from the other. All they need to do is work with the foundation color, and you are in great shape.
Finally, consider accent walls. Your large connecting spaces can be overwhelming if they are all one color. Try adding a splash of interest with a small accent wall, either coordinating with a piece of furniture in the room, or with color from an adjacent room.
Many homeowners feel at a loss when it comes to choosing colors for their homes. That is why ALLBRiGHT 1-800-PAINTING offers expert color consultations for our clients. We work with your tastes and preferences, and we advise you on how various colors will look in your home lighting and environment. With long experience of painting and color, we are sure to produce the results you are hoping for!
Serving the Santa Clarita Valley and the Los Angeles area, ALLBRiGHT 1-800-PAINTING is a premium residential painting contractor.