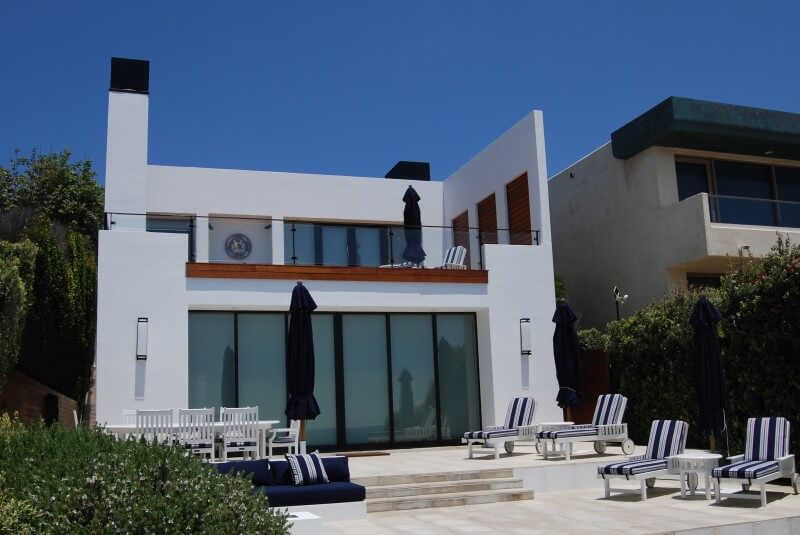 One of the best aspects of performing exterior painting here in Southern California is that it often provides beautiful views and a pleasant work environment. That was definitely true on this project in Malibu, CA where we did the exterior painting and staining on a wonderful beach house. The project was moderate in extent, but the overall change in appearance was dramatic!
Our 21-day project here in Malibu began with a thorough pressure washing, in order to remove loose paint and other contaminants from the exterior surfaces. Next came the largest portion of the project: repairing and painting the stucco. There were several cracks in the stucco, which we ground out with diamond blades. Next, we filled the areas with concrete patch and a sealant. Finally, we primed the repaired areas, and painted the walls with a finish coat of Dunn Edward's Evershield flat.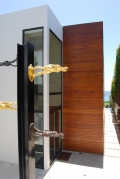 This beach house has several unique features, such as the stained wood garage doors, view deck, louvered shutters, courtyard doors, and a tower. Some of these were still in great shape, but others had damage to the finish. We used chemical and mechanical stripping methods to remove the finish from these areas. The tower and the shutters were then re-stained and protected with a clear coat, so that they matched the rest of the woodwork. The wood on the view deck is made of a weather-resilient wood, we left it stripped and cleaned, for a more natural look.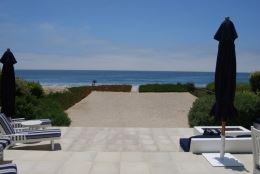 Several of the exterior wrought-iron railings had suffered rust corrosion, which is understandable given the nearness of the ocean. We used a new 2-part product called Decade to neutralize the rust and recoat the railings. This premium product cures fantastically hard, protecting metal with an unbeatable shell. In fact, this is the same product that was used on the Santa Monica Pier rides. Once coated in Decade, the wrought iron is sure to keep its crisp, attractive look for many years. 
ALLBRiGHT 1-800-PAINTING offers premium painting services to the Los Angeles area, including Malibu, Santa Monica, Long Beach, Oxnard, Ventura and Huntington Beach. If your beach home needs exterior painting, we have the product knowledge and experience to protect your dwelling from the sun, wind and salt. When you want the best, call ALLBRiGHT 1-800-PAINTING!