White kitchens are all the rage, and for a number of good reasons. They offer a clean, classic, versatile aesthetic that gets along beautifully with any countertop, backsplash, or flooring option you could want.
In other words, it's a backdrop that also offers a beloved style of its own.
While keeping the integrity of your white kitchen cabinets and walls, are you looking for ways to add pops of customized, vibrant color? We have a few tips for you to play around with.
How Can You Introduce Accent Colors To Your Kitchen?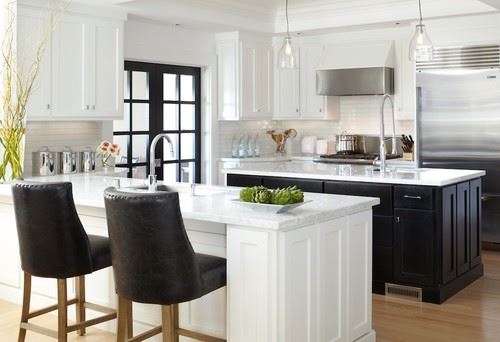 Decorations and Artwork – You can take advantage of the versatility of a white kitchen by bringing in colorful vintage artwork, signs, bold dishes, and more. And, if you do add those bright dishes, try placing them on an open shelf or behind glass cabinet doors so that they can really shine.

Paint Your Ceiling or Island – Turning your kitchen island into an accent piece is very popular, and it's easy to see why. A complementary color in the center of the space will off-set the white cabinets beautifully. And, the same is true for your ceiling; it doesn't need to be white, but can rather be treated as an overhead accent wall.

Bring Color to Your Trim – Never be afraid to frame the space with brighter colors! Painted trim is stylish and can draw the spotlight to unique features within your kitchen.

How About a Bolder Color or Pattern for the Stools at Your Island? – You can either find an existing fabric you like, or you could get crafty and upholster your own. Either way, bringing new style to the seating in your kitchen is a fun and satisfying way to take the presence of color to a new level.

A New Backsplash – The possibilities are almost literally endless. Taking advantage of the fresh color and texture that a new backsplash can offer is a fun alternative. If you do like the classic look of subway tile but want a colorful spin, try a different grout color!
As always, we suggest tapping into the massive resources for inspiration and ideas that are just a few clicks or swipes away. We especially enjoy Houzz.com, but you can easily find your own favorite with a little exploration.
Happy painting and decorating!