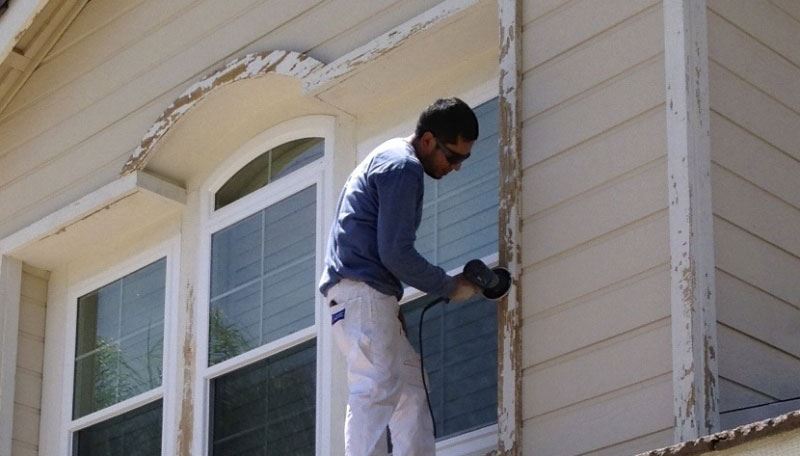 As we've discussed before, surface preparation is an essential part of the home painting process. Unfortunately, these crucial steps can sometimes be rushed through, minimized, or skipped altogether. After all, they require extra time, product, expertise, and, let's face it: it's more fun to just get to the painting!
It's understandable for a homeowner tackling a DIY project to not focus on prep work as thoroughly as they should, but sadly "professional" painters can gloss over the early stages of the project as well. Wherever you may live, it's important to find a painting company that takes every step of their work seriously. If you're not sure how to go about finding a true pro, here are a few tips:
Research Reviews – One or two bad reviews might just be the work of a disgruntled customer, so don't make an immediate judgment. Take the time to read through the positive and negative feedback, and look for responses from the painting company too. Their attitude will tell you a lot!

Find Their Work – Most businesses have pages on social media. Some are more active than others, but you often can find examples of their work to peruse. Look through the portfolios on their website too, or Project collections on Houzz if they're there.

Consider these ten questions to ask your painter.
Let's get back to the original question.
Why Exactly Is Surface Preparation So Valuable?
The real issue is that time and the elements make your exterior surfaces an incredibly faulty foundation for new paint. If you were to simply slather fresh product over a tired stretch of siding, even with premium products, it would only be as strong as the material it's anchored to.
The key is to remove anything that will get in the way of superior adhesion, including:
Dirt
Mold
Mildew
Surface damage
Rot
Old, failed coatings
…and more
At the end of the day, this early investment of time and labor will yield a more beautiful and longer-lasting finish.
Who doesn't want that?
What Should Your Painting Surface Preparation Include?
Well, this looks a little different for everyone, depending on the nature and condition of the surface. Here are a few examples:
Stucco repair (patching damage and filling cracks wide enough to fit a credit card inside)
Wood replacement and/or repair
Dry rot sealing and repair
Sanding
Scraping
Patching
Priming
If you do hire a professional painting company, remember to ask them what kind of surface prep their quote includes. What do they recommend for your home, and why? Never be afraid to ask "why." Your painter should be an open book, and a real teammate in helping you provide the style and care your home deserves.