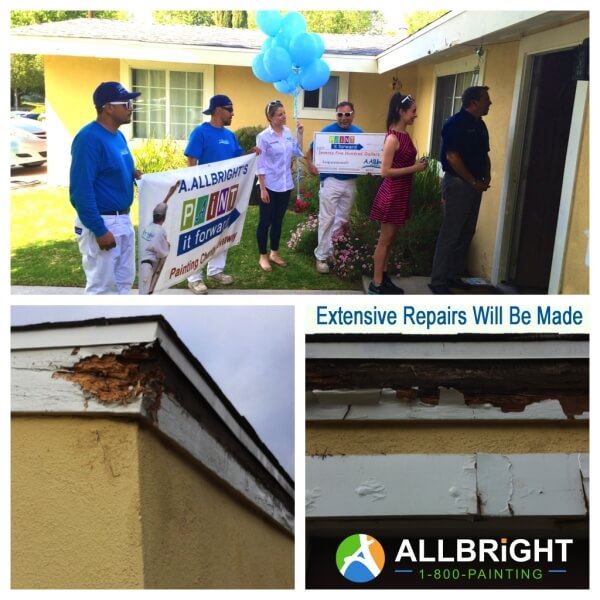 Who:         ALLBRIGHT 1-800-PAINTING  
What:        9th Annual Charity Paint Makeover called PAINT IT FORWARD
Where:      Canyon Country, CA 91351
When:       This Saturday, May 17th, 2014, between 7:00AM – 2:00PM        
ALLBRIGHT 1-800-PAINTING is extremely proud to announce this year's 9th Annual Paint-It-Forward Charity event.  The Espinoza Family will receive a complete interior and exterior home paint makeover this Saturday for FREE.  
ALLBRIGHT has also teamed up with Sherwin-Williams Paint Company to provide ALL the paint and supplies needed to complete this makeover, while Rebecca Rollins Interiors provided a free color consultation to help the Espinozas choose the perfect paint colors.  
Each year ALLBRIGHT 1-800-PAINTING asks the local community to nominate someone in need. After all the nominations are sent in, the staff, along with ALLBRIGHT'S customers, vote on the family or organization that they feel is the most deserving. 
This event has been well received locally by the Santa Clarita Valley and has been spreading all across the nation with over 40 or more painting contractors the following suit and having Paint-It-Forward events in their towns, all thanks to Joshua Abramson for speaking both locally and nationally on how to use their small painting businesses to give back to their local communities using the talents they've been given. 
This year our recipient was nominated by a family friend who knew ALLBRIGHT 1-800-PAINTING could help paint a brighter future for the Espinoza Family.  On March 25th, 2011, Alma Espinoza was diagnosed with breast cancer and had a double mastectomy done on May 21st, 2011.  By September 2013, cancer had spread to her liver.  Alma recently lost her battle with cancer, leaving behind her husband and four children.  Even when times were very tough, Alma remained strong and positive. 
Manny Espinoza explained that even though it's been four months, he still can't sleep in their bedroom.  Alma was getting ready to paint their house, but when she began undergoing several different treatments, painting her home was placed on hold.  She had already started picking out her favorite colors and it was a dream of hers to get her family's home painted. Manny shared that even though Alma is no longer with us, "We are still receiving love from her" by winning this makeover and the outpouring of love from friends and neighbors.  ALLBRIGHT 1-800-PAINTING is happy to make this dream come true for Alma and the Espinoza Family.  
We hope to help brighten their day with an ALLBRIGHT paint makeover.