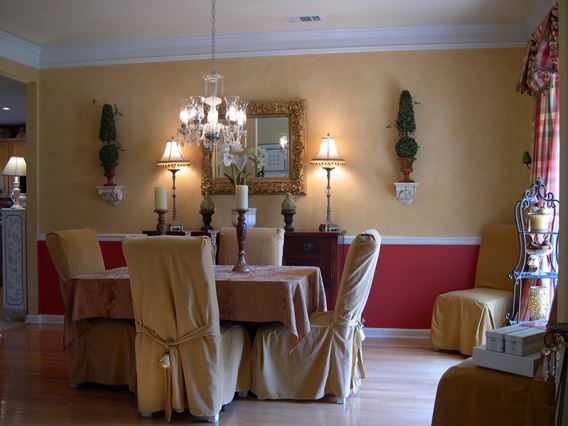 When it comes to sophistication and distinction, there is no better area of the home than a formal dining room. This is the place to design your paint, furniture, and decorations in such a way as to create a lasting impression. One of the best ways to augment the stateliness of a formal dining room is to install new moldings. Let's begin with the top of the room, and work our way down.
In rooms with a smooth, painted ceiling, a piece of trim can be installed on the ceiling itself, about 8 to 12 inches from the wall, tracing the perimeter of the room. In conjunction with crown molding, the look is very sophisticated. Another option is to use a multi-part crown, which adds a weighty, traditional feel. Also, a small piece of trim can be installed horizontally on the wall, 8 to 10 inches below the crown molding. This is best in tall rooms and looks quite distinguished.
Chair rail is also a piece of horizontal molding, which is applied 3 to 4 feet from the ground. Originally designed to prevent chair-backs from damaging the walls, chair rail has grown into a popular decorative feature in many homes, and it can be used with or without wainscoting below it.
Wainscoting is a molding that covers the lower portion of a wall, under the chair rail. It is often a set of frames and panels set in a pattern across the wall, adding depth and detail to the room.
Once your new moldings are installed, there are now endless possibilities for painting. Use multiple shades of the same color to make your new details really stand out, bringing visual interest to space. Paint a lighter color above your chair rail and a darker below, or paint the frames of your wainscoting a different color from the panels. If you have added another strip of molding to your upper wall, near the crown, consider painting the wall-space between the crown and molding a different color from the rest of the wall. Whatever kinds of trim, moldings, or wainscoting you add to your formal dining room, it is sure to add that beauty and individuality that you crave!
ALLBRiGHT 1-800-PAINTING Painting employs skilled craftsmen who can install many kinds of trim and molding. We are happy to work with you to craft a design that will highlight the existing beauty and add new elements to your formal dining room. Based in the Santa Clarita Valley, we serve the Los Angeles region.