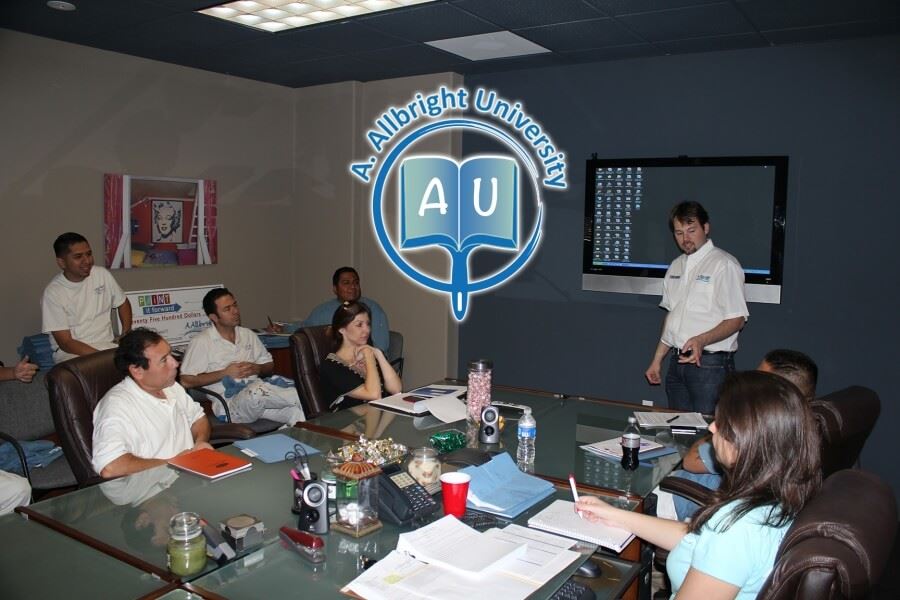 We sometimes get asked, "how did you guys get to be such a successful painting company?"  Why is it that ALLBRiGHT 1-800-PAINTINGhas a good reputation in the community and is a great place to work in? We believe it's because of the emphasis we place on training.  Most local painting companies don't spend time or money on training because it takes time, which costs money.  It's not cheap to pay your employees to come to meetings and train.  And if you're going to do that, it better be worthwhile training.  Here at A.Allbright, we aren't the cheapest painting contractor in town (and we like it that way). We actually spend money on training, so that we can consistently give our clients the "ALLBRiGHT 1-800-PAINTINGExperience."   We take our training so seriously that we've hired a full-time trainer, who has over 30 years of experience in the coatings field with sales, failure analysis, and customer service.
We have on-going training in the form of on-site, in the classroom, and off-site. This year we have become certified Pro Stain Contractors by Benjamin Moore which included many hours of classroom training, learning about all the different wood species, the reasons for failures, and how to get the longest life out of exterior stained wood and maintenance.   We're also an accredited painting contractor through on-going training with our trade association called the PDCA.
We were the first in California to receive this accreditation.  Every couple of weeks, we have guest speakers come in, we have product reps showing us their newest technologies in paint, and we are even to the point where our Crew Leaders take an active role in training the rest of the team in areas of their expertise at our all-employee meetings. This week we will have one of our star Crew Leaders, leading the team in "how to" repair the different types of stucco patterns, so that they blend in perfectly.  See attached picture of stucco repair from the untrained contractor. 
Our class will be hands-on type training with examples and tests here at our studio so that our guys can hone their skills even more.   Afterward, we will be enjoying a BBQ together.  We will also be handing out a newly shaped paintbrush to the guys for testing in the field.  The upcoming training schedule consists of Faux Finishing and Venetian Plaster in the next month.   Ask your local painter what is on his upcoming training schedule? Or what did he and his company train on last month?   It's good information to know.  Here at ALLBRiGHT 1-800-PAINTING Painting, we believe that by investing in our painter's training we can offer you consistent quality work and customer service. A.U. Allbright University – That's how we do it at A.Allbright.