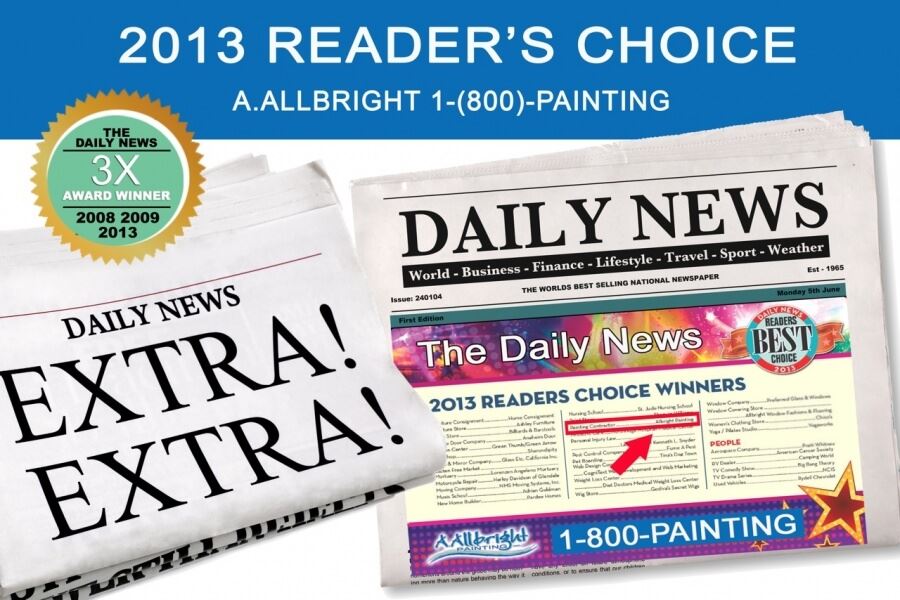 Wow! We sure are grateful to be the recipients of the 2013 Los Angeles Daily News Readers' Choice Award for LA's Favorite Painting Contractor for the third time!
When we first won this award back in 2008, we were thrilled that so many people in the City of Los Angeles, the San Fernando Valley and the Santa Clarita Valley had written down our name as their favorite painting contractor, but then to win again in 2009 and now in 2013, we are truly honored. We understand that there is much competition and many choices in a large metropolitan area like Los Angeles, which makes this award that much more meaningful. Also, right next to us on the winner's list is Sherwin-Williams Paint Stores as the Readers' Choice for LA's Favorite Paint Store. It's an honor to be in such great company. Sherwin-Williams Paint is one of the world's largest paint manufacturers and they also happen to be one of our largest paint suppiers, too.
Thank you to all of those who took the time to cast your vote telling everyone what you think of our service. It means the world to us.
Have an ALLBRIGHT Day!
Sincerely, The Painting Happiness team!