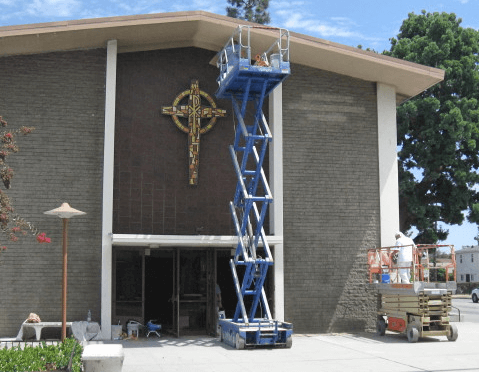 No one goes to church to look at the paint on the walls (at least, not normally), but when the paint begins to age and fail, it can be distracting and steal attention from what is really important. People hold their faith dearly, so it is an honor when we at ALLBRiGHT 1-800-PAINTING are asked to paint a church or similar place of worship. One Los Angeles area church that we painted not long ago is Panorama Presbyterian Church, in Panorama City, CA.
Built-in the 1960's, this church is home to an active, dedicated congregation. More than 40 years later, the building was showing many signs of aging, and the members of the church set about to complete an ambitious 3-phase renovation project, including interior and exterior painting. ALLBRiGHT 1-800-PAINTING Painting was happy to be chosen for this church painting project, which was large in scope but needed to be completed in a limited time-frame.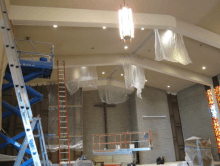 The biggest part of this painting project was the acoustic ceiling, which had stains, yellowing, and some surface damage. We bleached, spot-primed, repaired, and repainted the ceiling to look as good as new: a great improvement!
Some of the other interior painting that needed attention were the support beams in the sanctuary and the walls of the balcony and stairwell. These areas required patching, spot priming, and fresh painting. The church's goal in this project was to make the sanctuary "the crown jewel" of their campus, and the interior painting we performed went a long way towards restoring it to that status!
We also performed exterior painting for the church, refreshing and updating the look for an excellent first impression. The most prominent exterior feature that we treated was the cement cross. Much of the paint was peeling off, so we needed to clean and treat those areas to prevent future paint failure. Next, we primed and painted the monument, restoring it to its former shine.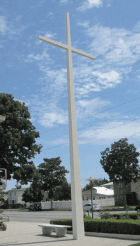 Here is an excerpt of a letter from the congregation: "This would not have been possible without you!  We also owe a special thanks to those who gave so willingly of their time and talents on each phase of this effort. This was a tireless effort that at times became almost overwhelming. Perseverance and dedication are words that describe these efforts."
At ALLBRiGHT 1-800-PAINTING Painting, we strive to be respectful and responsive to our clients at all times, but that is especially true when we are painting churches. We serve the Santa Clarita Valley and the Los Angeles area, offering residential and commercial painting services.