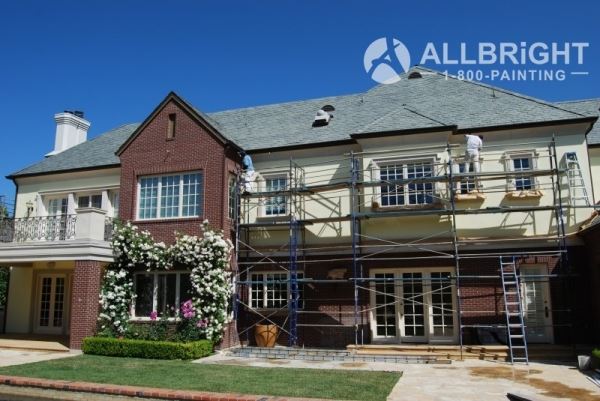 Here at , we know that surface preparation is one of the main differences between a great paint job and a failing one. Your exterior paint job is not just cosmetic; it is a barrier that protects your home against the elements that would destroy it. As a professional painting contractor that promises premium work, we spend a large portion of each exterior paint job preparing the surfaces.
In order to get your home exterior ready for painting, the surfaces must be clean, dry, sound, and (usually) primed.
Cleaning: Some budget painters just blast your home exterior with a pressure washer, and call it clean. Sometimes that is sufficient, but if there is mildew present, it must be killed with bleach or a mildewcide. Also, if your current paint has any gloss to it, it must be abraded (sanded or scraped) to create a surface that the new paint can bond to. Finally, any loose, flaking, bubbling, or peeling paint must be thoroughly scraped off with a putty knife or wire brush.
Drying: Here in the Los Angeles area, a house can dry fairly quickly. If you pressure wash your wood or stucco siding, it likely pushed water deep into the surface, which can take a few days to dry. If you paint a surface with hidden moisture, that water will eventually evaporate and create bubbles behind the paint. If you're not sure, it's safer to wait.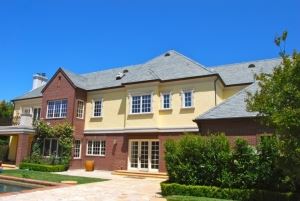 Sound Surface: If your substrate is rotting or crumbling, new paint will not hold it together. If a board is rotted, it should be completely replaced. If there are a couple of small areas of rot, you can use a knife to scrape out the loose wood and fill the area with wood filler. If you have any significant cracks in your stucco or loose mortar, they should be repaired prior to painting. Use paintable exterior-grade caulk to close up any gaps at joints, windows, or doorways.
Primed: If you have any bare wood or stucco, it is usually a good idea to prime it before painting. This partially depends on the product you will use as a topcoat. Read the label on your paint can or talk to a knowledgeable paint store representative to find out for sure. If you are going to make a major change in the wall color, most painting contractors recommend using a primer first, tinted to a half-shade of your final color. This is a cheaper way to hide the previous color and get your home ready to finish with fewer expensive topcoats.
Now, be sure to tape and tarp anything that you don't want to paint on — lights, sidewalks, windows, doors, garden gnomes, and pets. You are now ready to paint your home exterior!
ALLBRiGHT 1-800-PAINTING is a top-quality residential painting contractor, serving the Santa Clarita Valley and the Greater Los Angeles area. Sign up for our email newsletters to receive excellent special offers for exterior painting and other painting services. We are always happy to provide a free, detailed estimate; there's nothing to lose!