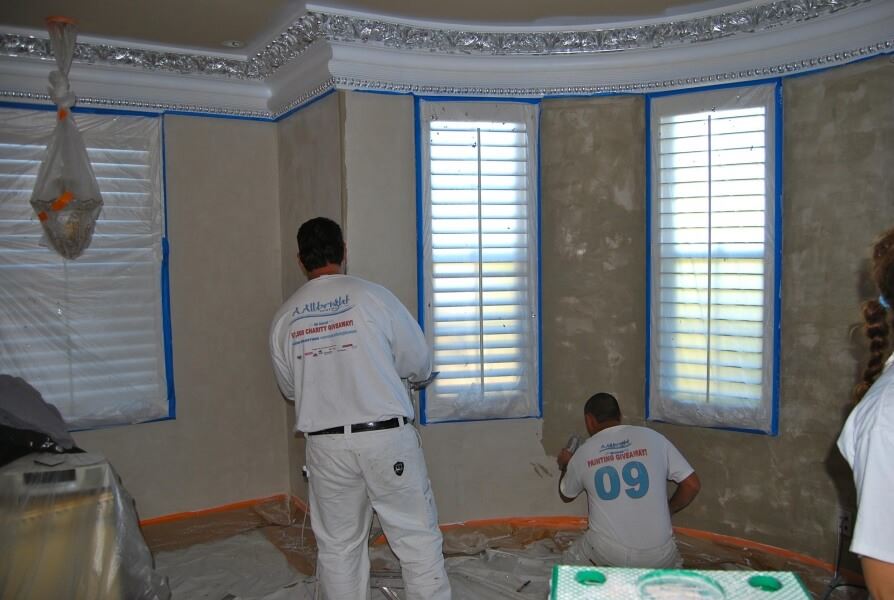 We are back at one of our favorite client homes in The Woodlands community located in Valencia, CA. Back in 2009, we won a very prestigious national award for the decorative painting work we did in their home theatre room. It was a lot of fun to win the highest award we could win in our trade. The award is called the PDCA's PIPP (Picture it Painted Professionally).
Now we are working in the master bedroom and bath of this magnificent home. We had completed our months of homework by working with them to create the perfect color for the Venetian-plastered walls and beautiful crown molding. We have approved samples and now our client is comfortable enough to stay in their New York apartment while we complete the betterment of their master suite.
Many labor hours and multiple layers are required to create this masterpiece. To start with, the Venetian plaster requires a level 5 (perfectly smooth) wall before you can apply it. These walls had the original orange-peel texture on them. After skim coating them and applying two different primers, we have to apply two coats of Venetian plaster by trowel. Finally, we must add a wax that we burnish on the walls to give the plaster a beautiful luster and silky smooth finish so that you would swear you are touching marble walls. At the same time, we are working on the ornate crown molding that also requires multiple layers starting with silver and gold leafing. Then we will be applying over-glazes that will add interest, depth, and an antique quality that will bring the detail in the molding to life and highlight it beautifully.
Stay tuned… for the pictures of the completed project.
Based in Valencia, CA, ALLBRIGHT 1-800-PAINTING provides painting services to the greater Los Angeles area including, Canyon Country, Castaic, Newhall, Newhall Ranch, Northbridge, Saugus, Stevenson Ranch, Westbridge, and the surrounding counties.