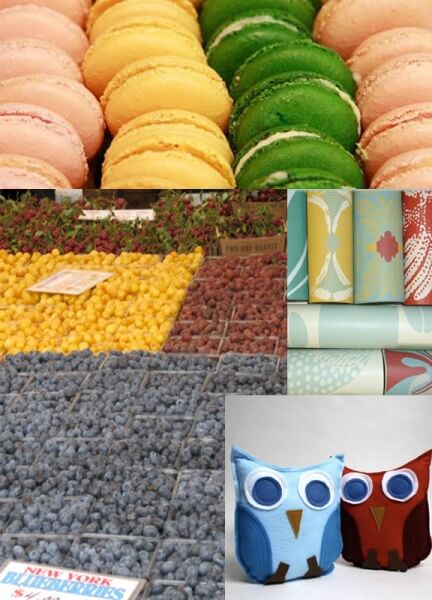 2010 is already off to an exciting start. New fresh ideas and concepts are flowing everywhere, but with the remembrance of the past. From the most primitive form of vegetable dyes, cochineal, and minerals, we have always created color with limited resources. This feeling of creative resourcefulness is all around. Here are a few strong trend elements that have been gaining ground in the world of color and design and the ALLBRiGHT 1-800-PAINTING colors that work with them:
* Macaroons – sweet coconut biscuits or little french delights, now in small sizes of all colors. ALLBRiGHT 1-800-PAINTING Chandelier, a warm yellow, and Dawn Pink, a pale peachy tone recall these treats.
* Felt – Organic looking foliage and applique on pillows and accent pieces in soft earthly colors.
* Haberdashery – Buttons, grosgrain, and all sorts of trims in all manner of uses, with vintage button jewelry. A great turquoise to use is Make-Believe.
* British Influences – These are still going strong, with design elements and motifs heading more this way. Add a little pomp and circumstance to design… ALLBRiGHT 1-800-PAINTING Late July is a good read for this.
* Rethink & Reuse – Mixing vintage with contemporary, repainting, reupholstering. Recycling in a modern way.
* Rural Chic – This is not a cutesy country, but rather a return back to the land with an emphasis on a higher level of self-sufficiency. Think to grow your own herb or victory gardens, raising chickens in the city, and when heading to your local farmers market, getting your wellies out in a modern way. Try using a warm, milky brown like Iced Coffee.