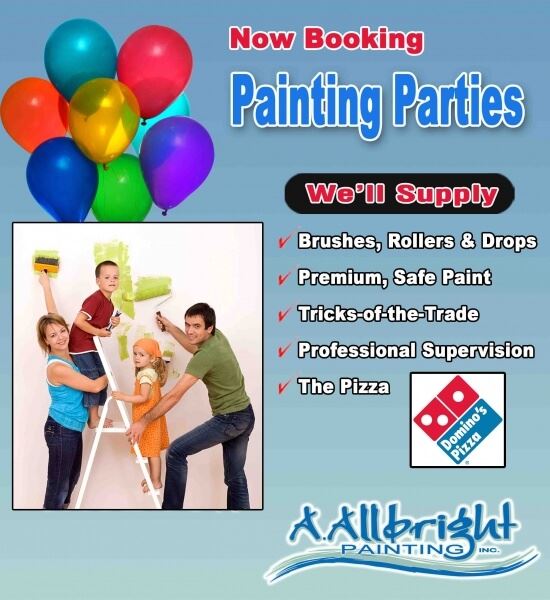 Party with ALLBRiGHT PAINTING!
We have created a way for you to save up to 75% off the regular price of painting and still get the expertise of A.Allbright.
It's called the "ALLBRiGHT PAINTING Party"
We'll supply:
Premium Allbright Paint
Brushes & Rollers
Ladders & Drop Cloths
Expertise of a trained painting supervisor
Proven tricks-of-the trade techniques and helpful instructions
We even supply lunch!
What you supply:
Friends, family or both who want to help you!
Here's how it works:
Give us a call and we'll identify your painting party needs. We'll ask you questions like; what areas are priority for you to have painted?  How many volunteers will be at your party?
Next, we will send you some pre-party information to help you properly prepare for your successful painting party.
On the day of your painting party, we will pull up in our "ALLBRiGHT PAINTING Party Trailer" with all the professional tools, drop cloths, ladders, paint, and maybe even a few fun surprises.  We'll help each volunteer get started by providing them with their own painting tool sets and some basic instruction and safety guides.
Next your trained supervisor will provide hands-on examples of correct painting procedures, and some tricks-of-the-trade. He will be there to assist you and your volunteers with any questions or help they may need.
We have an exclusive deal with Dominos Pizza, so lunch is included – a must for your helpful, hard-working volunteers. We handle all the details!
Lastly, if your friends or family weren't able to finish all that you hoped, don't worry – we will be there for you. We will help you calculate the cost to complete your painting project professionally by providing a discounted estimate to come back and complete the work to your satisfaction.