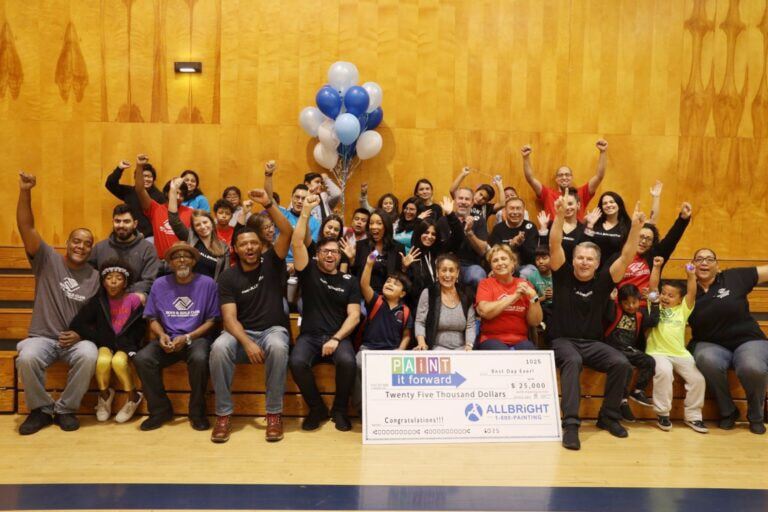 Pacoima, CA: On Saturday, February 29th, members of the ALLBRiGHT PAINTING Happiness Team and volunteers will work to beautify and restore rooms of The Boys & Girls Club of San Fernando Valley with fresh paint. 
The Boys & Girls Club of San Fernando Valley is an after-school program that promotes social, educational, and character development for children ages 6-17.  For over 50 years, the Club has been in the forefront of youth development in the impoverished community of Pacoima, working with young people from disadvantaged economic, social, and family circumstances.
The club was nominated and selected to be the recipient of ALLBRiGHT 1-800-PAINTING's 2020 bi-annual Paint-It-Forward charity giveaway.
"We had previously heard of ALLBRiGHT and their Paint-It-Forward program. This facelift is 20 years in the making and we couldn't be more excited. Our staff and team are sincerely grateful for the support. – Nicole Chase, President & CEO at The Boys & Girls Club of San Fernando Valley
"We want to brighten everyone's outlook there from the children to the staff that give so much.  We hope to bring a little painting happiness to the club and help paint their future ALLBRiGHT!" – Josh Abramson, Chief Solutionist at ALLBRiGHT 1-800-PAINTING
100+ gallons of paint have been donated by Vista Paints for the event, who will also be providing lunch for all volunteers.
About Paint-It-Forward
The Paint-It-Forward movement was started by ALLBRiGHT 1-800-PAINTING's Chief Solutionist Josh Abramson, in 2005.
Since completing the first Paint-It-Forward 11 years ago, and now with other painting contractors joining the movement, their combined efforts have reached a goal of over $1,000,000 worth of free painting services and materials delivered to communities across the U.S. and Canada.  Past Paint-It-Forward recipients include: The Children's Hunger Fund, SCV Food Pantry, Village Tree Preschool, Crossroads Community Church, and more.
About ALLBRiGHT 1-800-PAINTING
ALLBRiGHT 1-800-PAINTING is a commercial and residential painting company serving the Greater Los Angeles Areas since 1987. For more information visit https://www.allbrightpainting.com/paint-it-forward/