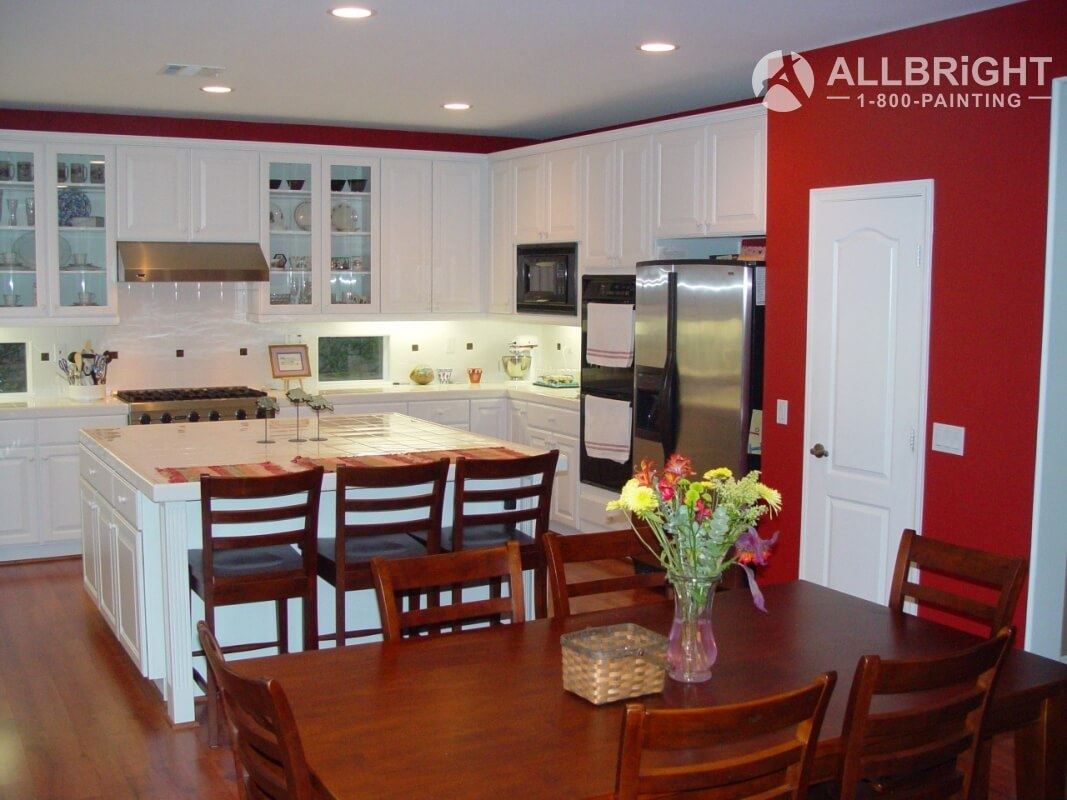 If you are a homeowner living in Greater Los Angeles who is looking for a free kitchen cabinet painting estimate, please click here.
Should I Repaint, Reface, Or Replace My Cabinets?
One of the most cost-effective home repair or home remodeling improvements is paint.
Adding a new color to a bedroom or repainting some wood trim around the home can add quick value to your home. However, one of the questions we get asked often is regarding kitchen cabinets. Homeowners want to know if they should repaint their cabinets, replace them completely, or reface.
It is always less expensive to apply paint than replace, so let's look at some of the reasons why you might consider repainting your kitchen cabinets and you decide what is best for you.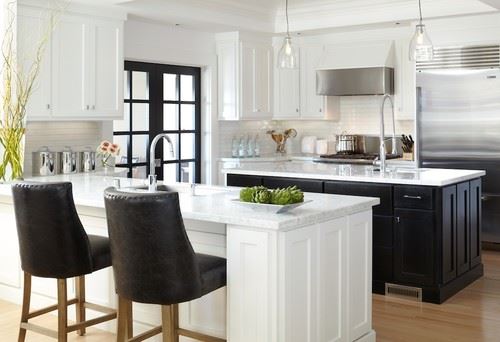 Painting Your Cabinets
Just about any type of kitchen cabinets can be painted. Typically homeowners are considering painting because they are tired of their outdated stained cabinets. The popular finish of the late 1980s and early 1990s was the whitewashed oak. This was then replaced by more of a natural oak finishes followed by dark cherries, maples, and very dark stains. The latest in kitchen cabinets tend to be more in distressed woodwork and stains (made to look older yet clean), solid colors, or cabinets with a faux finish applied to it, typically known as French Country.
So, the question remains, what should you do with your kitchen cabinets? Price out replacing your kitchen cabinets and painting will look better and better.
The cost to paint a kitchen is typically 1/3 to ½ the cost of replacing. The paints applied to cabinets are also very durable and will last just as long as new cabinets in most cases. If a professional paint company is handling your cabinet project, that has lots of experience with woodwork, you will be surprised at how good the finished product will look.
The only time you really do not want to paint or re-stain your cabinets is when you are tired of the look of the doors and drawers. This is where you can do a combination of replacement and repaint or refinishing.
In other words, if you want new doors and drawers, you can typically hire a professional cabinet maker to install unfinished doors and drawers with new hinges and drawer guides and then have your cabinet painting company do the finished work.
Decide What You Want Your Cabinets To Look Like
When it comes to kitchen cabinets, there are many different options a painting company can offer you.
The main thing you have to decide is what you want the cabinets to look like when you are done. Do you want a solid color? Do you want a different faux finish? Do you want them to look "Old World?" Whatever it is you want, typically for a lot less than gutting your kitchen and starting over your painter can make it happen. But remember, only a few companies are good at cabinet painting.
Whatever you do, don't go with the cheap guy if you decide to repaint rather than replace it. You'll thank me in the end!