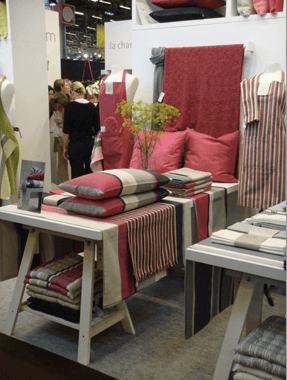 As we mentioned in our first September blog – now is a time of rethinking and new directions greatly influenced with the economy tightening its belt. Many of the design trends for next year are enforcing this idea. The London, New York, and large Paris shows mostly just completed, are ready to steer us in a new brighter direction. Pink is no longer just the little girl color it used to be. Its now bright and bold and sophisticated teamed with grey and brown and metallics – as well as purples and eggplant, with greys of every distingushing shade.
But what makes a house a home, that all important place we yearn to come back to (Simply Red song) and make our own? That personal stamp of our favorite colors, well placed and matched with furniture and fabrics can create a place of respite for us and our families, that feels in keeping with our budget and location. The Allbright colors always seem to have a color to suit the market trends and our own possibly more conservative choices at the same time.
The warm lavender they offer called Radience AB209 is a tranquil choice with soft ivory and accent with their color Haze AB212 is enough to put you on the Paris catwalk.