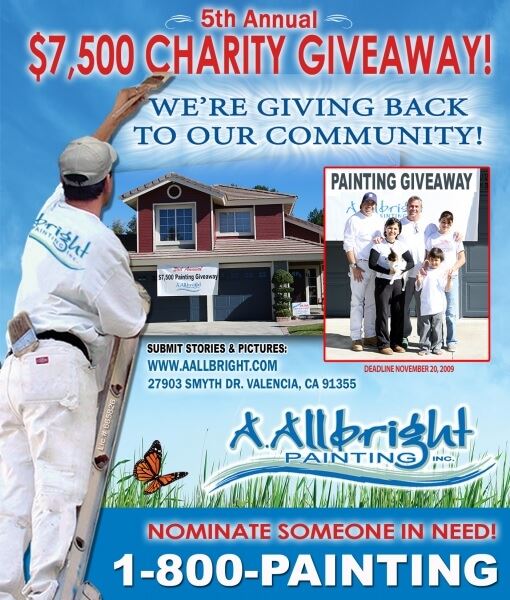 In the 2000 hit movie "Pay It Forward," a young boy was given a social studies assignment to come up with an idea that will improve mankind and to put his idea into action. He came up with the notion of instead of paying favors back, we should "pay favors forward" by doing three good deeds for someone who would in turn "pay it forward" and so forth. His idea resulted in creating positive changes in his life and the lives of an ever-widening circle of people completely unknown to him.
In that same spirit, ALLBRiGHT 1-800-PAINTING. is proud to announce its 5th Annual Charity Paint Giveaway Event and is now accepting nominations for deserving families or nonprofit organizations in need of painting services. We will select one recipient, based on need, to receive $7,500 in free painting services,including all labor and materials.
ALLBRiGHT 1-800-PAINTING employees and founder Joshua Abramson first started the Charity Paint Giveaway Event in 2005. In last year's selection process, ALLBRiGHT staffers were at an impasse due to a virtual tie. They ultimately selected not one but two recipients.
One of last year's recipients is the mother of two sons, Luis and A.J of the Contreras family. Luis (18 years old), after two years of missed diagnoses, was discovered to have a brain tumor after an MRI. Luis's tumor was surgically removed and he began chemotherapy. Today he continues to fight his battle with cancer. To see their full story and to also view the second recipient's story, go to our website blog.
We are honored to have the opportunity once again to "Paint It Forward" to those who are working through difficult hardships by providing them with painting services to add some brightness to their lives. Do you know of a family that is struggling due to medical problems or financial problems, or perhaps of a nonprofit organization that is doing fantastic things to help others but is struggling to make ends meet? We want to know!
Please help us "Paint It Forward" by sending in your stories, pictures and supporting materials no later than November 20th to ALLBRiGHT 1-800-PAINTING Painting at 27903 Smyth Drive, Valencia, CA, 91355. Additional information may be obtained by calling (661) 523-0358.