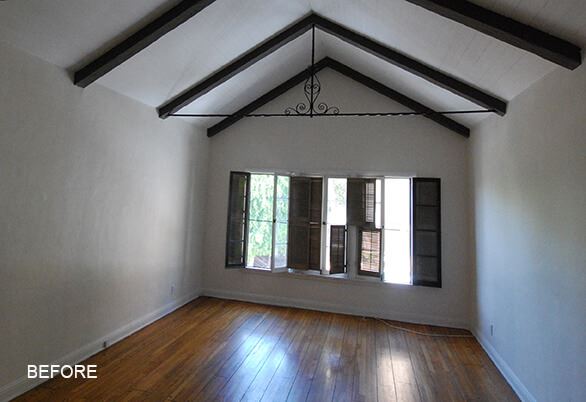 A little while ago we got a call from a young woman who had just leased her first apartment.  She just moved here from out of state to pursue her acting career.   The apartment building is located in the foothills right below the Hollywood sign and looks to be built sometime between the 1930s or 1940s. I must admit I was a bit surprised when I found out that she wanted to use some of the finest paint around called, Farrow and Ball for her apartment that she was only leasing. 
Most young adults don't spend the $85 – $120 per gallon for painting their apartment.  More typically, the clients we see using F&B Paints are designers and homeowners on the west side that care about the quality first and not really about the cost.  Like this project we painted in Hancock Park.  I quickly understood why this young professional client wanted this premium high-quality paint once we started talking about color.  Farrow and Ball is known for their rich and beautiful colors that have a unique depth that can only be found in a paint that uses the best pigments around and she knew that.  She came equipped to our appointment with this little scrapbook of magazine pictures and articles, all organized by categories.  Her vision was clear.  She knew what she wanted and Farrow and Ball had the perfect colors for her apartment.  All Farrow and Ball paint is color mixed with accuracy overseas at their factory in Dorset, England and then shipped here in the United States.  This is much different than how most paint is mixed here. 
The Los Angeles Farrow and Ball showroom is located on Melrose Avenue and it has just recently been remodeled.  It showcases some of their latest wallpapers and paint colors.  The sales team there is super helpful and we love sending our clients there for an upper level of service.  We know about this level of service because we experienced it firsthand when they were such gracious hosts during one of our ALLBRiGHT 1-800-PAINTING speaking events where we were invited to speak about color and painting to a group of elite estate managers at the F&B showroom.