We recently invested in an exciting new piece of equipment that is already proving to be a huge asset to the ALLBRiGHT painting happiness team. We'll give you a hint: it's red, flashy, and a lot of fun.
No, we didn't invest in a company sports car. 
We actually purchased a new lift, capable of stretching up to 60 feet in the air. 
Why Did We Buy A Lift?
Not only does a piece of heavy equipment like this benefit us and extend (literally!) the capability and efficiency of our team, but it also offers direct value to the HOAs, property managers, and other commercial clients that we often serve. How? Well, many painting companies need to rent machinery like this, creating extra steps, expense, transportation issues to resolve, the need for training, and more. Our goal as the painting happiness crew is to make our services are as simple, effective, and pleasant for you as possible. Owning this beautiful lift and having a thoroughly trained team means that we are ready to get to work and we can provide everything that we (and you) need.
Exterior Painting For A Local Apartment Complex
Here is a real-world example of the benefits that this lift offers: we recently began a large-scale interior and exterior painting project for a luxury apartment complex, including 8 buildings that contain four floors each. We're painting the interior hallways, exterior railings, and the lofty exterior stucco. This is where the lift becomes invaluable, as you can see below. To see more photos of our lift in action, be sure to click through the slideshow above as well!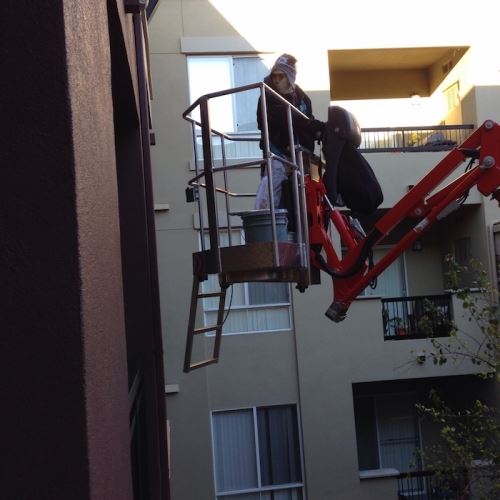 How Can We Meet Your Commercial And Residential Painting Needs?
We would love the opportunity to talk with you and tell you a bit more about the ALLBRiGHT experience. Why not contact us today?