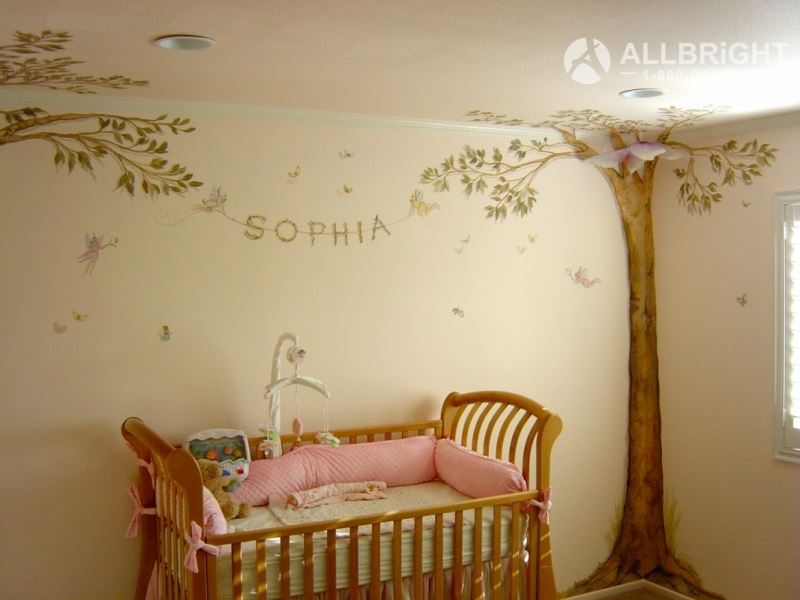 Are you on the hunt for just the right bedroom color for your little one (or maybe they're not so little anymore)? We have some tips and suggestions to keep in mind that go beyond style alone, tapping into the specific impact that certain colors have.
Interior painting is a powerful process!
Nursery Paint Color Suggestions
When it comes to picking paint for a nursery, it's easy to get swept away by the "cuteness factor." Soft, sleepy, cotton candy colors call your name, or tranquil pastel shades. The truth is, these colors are adorable, but they also can help soothe your baby. Color psychology tells us that subdued shades are more relaxing and calming (exactly what you want for a baby that isn't entirely interested in sleeping yet).
Should You Use Red In A Bedroom?
Especially as kids grow out of the nursery stage, you may need to pick a more mature paint color. While bright and bold can look trendy in a kid's room, it's important to not overdo it.
As an example, red has been shown to increase energy, agitation, and even raise heart rates! You can use this vibrant color, but maybe limit it to an accent wall. Too much of a good thing suddenly isn't such a good thing!
Painting With Yellow
A heavy presence of bright, assertive yellow can cause a reaction similar to that of red. Keep your yellows soft and pale, or use them only on specific walls.
Don't be tempted to write it off completely! Yellow, when in the right dose, can promote concentration and imagination; perfect for growing, learning kids.
The Benefits Of Painting With Green Or Blue
Green and blue are colors that come with no limitations. Calming, fun, and available in nearly limitless variety, both are relaxing and attractive. They also are colors that, depending on the shade you choose, can grow with your child. We'll get into that more in a moment…
To find out more about why blue specifically is such an awesome color, take a look at this article: Color Magic: Tap Into Psychology to Better Use Blue at Home.
White And Grey
Some think that a bright white or light grey might be too washed out. If left on their own they can look a little stark, but with the right accent pieces and decorations they are a fantastic, understated choice. One downside to consider, however, is that they will show marks and smudges more quickly than a darker color. If your walls are in very good condition, try a brighter sheen that offers a more durable finish.
Picking Bedroom Colors That Mature With Your Kids
If you would rather not change wall colors completely as your child grows up, try picking a more neutral color. A soft, earthy brown, for example, looks warm and inviting as a backdrop for a crib and rocking chair, but it also can be equally at home in a teenager's lair. Decorations, accent pieces, and (someday) posters can change the feel of the room in a quick and easy way if the paint is more versatile.
For more specific color ideas and samples, be sure to visit this article from House Beautiful: The 12 Best Paint Colors for a Kids' Rooms.
Can We Help With Your Interior Painting Project?
Here at ALLBRIGHT 1-800-PAINTING, we are passionate about colors and what we like to call "painting happiness." We want the entire process to be fun, refreshing, and happy from start to finish.
Why not contact us today with any questions you might have?