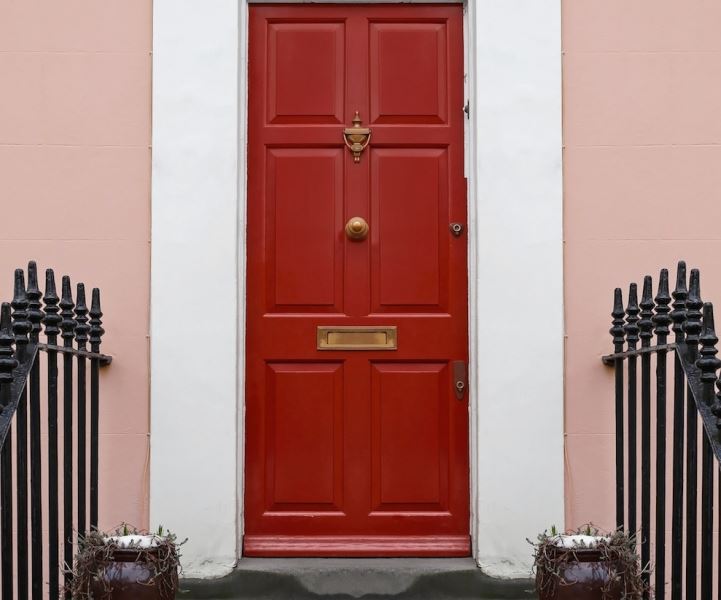 Painting is definitely about maintenance, care, surface protection, and taking pride in your property. No doubt about it.
It also, however, is about fun.
Your interior or exterior painting project is an awesome opportunity to let your creativity and personality shine. Whether you hire a professional painter or tackle the job yourself, you should be able to step back and truly love the change that was made.
With all of this in mind, we thought we'd share some tips for how to try an attractive and popular trend in home painting: creating an accent door.
What Is An Accent Door?
You've probably heard of an accent wall, or accent piece. It's a portion of a room's color scheme that stands out, offering a complementing contrast to the rest of the palette. In other words, it pops in an interesting, pleasing way.
Extending this fun idea to their home's exterior style, many homeowners are playing with bright, bold colors for their front door. It creates a stunning effect!
How Do You Choose An Accent Door Color?
Here are a few tips to consider:
Use a color wheel – This tried and true tool of interior designers and home professionals is a great way to find complementing colors. Learn more about how to use a color wheel here.
Research – There are nearly limitless resources online for finding inspiring examples of brilliant accent doors. 
Consider your goals – Especially as you research samples, you'll see that some of the colors people choose for their doors are incredibly bright. That doesn't need to be the case, particularly in light of the fact that a bold choice won't work for every property. Why not let your home's architectural style call some of the shots? Subdued and classy can be just as stunning if that's what your property needs.
Ask a professional! – Talking to an experienced, reputable painter is a great way to decide on your new look. After all, a fresh perspective can be invaluable.
Ask Us About Our Color Selection Services!
Here at ALLBRiGHT 1-800-PAINTING, we live in a world of color. Why not let us help with your selection process? We offer color consulting services that will make short work of finding the exact look you have in mind, and it would be our pleasure to help!