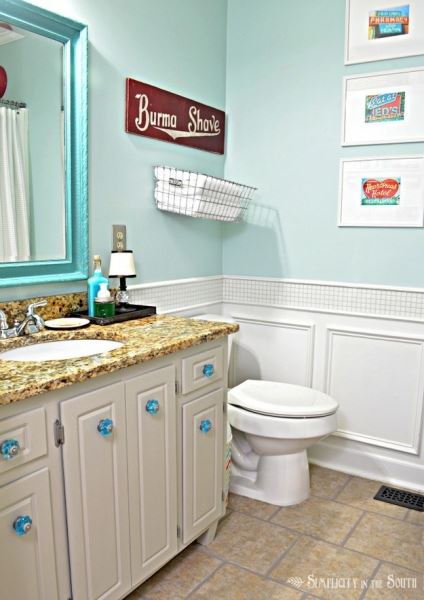 The bathroom is one of the most used rooms and frequently visited areas when guests come over so why overlook its design and maintenance? Your family's bathroom doesn't need to be the ugly duckling when it comes to design and paint care so here are 4 tips to keep in mind when painting and remodeling your bathroom.
1. Type of Paint
The best sheen to use for your bathroom walls is the long-lasting and stain-resistant semi-gloss. This finish is resistant to humidity and can withstand bumps and scuffs as well. Semi-gloss is also a great finish to use for baseboards and crown moldings because of its high durability.
2. Color Scheme
We recommend using a light color that will not only brighten up your bathroom but will also help the room appear more spacious and fresh. Choosing a darker color scheme for your bathroom might make the room look smaller and cramped. However, if you contrast the deeper and darker tones with a bright hue, you can create a very contemporary look.
3. Design
Don't be afraid to have some fun when decorating your bathroom. Whether you decide on a clean modern look or have a vintage feel, make sure there is enough lighting in the room to compliment whichever style you choose. Check out these creative life hacks you can use or get some inspiration from whether you have a small or large bathroom.
4. Ventilation
It is very important to have a quality ventilation system for your bathroom. Not only will it help keep your paint fresh and long-lasting but it will also help prevent health and safety hazards that come with mold, foul odors, and plumbing issues.
When you have completed your new bathroom, don't forget to show it off and tag us when posting on social media. We would love to see how creative our customers can be!
If you have a question or are interested in our residential painting services, contact us today.