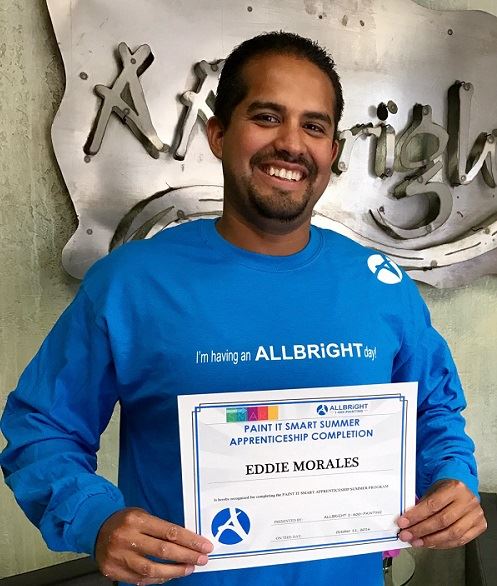 Every year we offer a summer internship program called Paint It Smart. The program was created by ALLBRiGHT Chief Solutionist Josh Abramson as a way to help motivated high school or college students learn the painting trade.
Our 2016 intern was Eddie Morales who successfully completed the Paint It Smart program and was hired on as a full-time employee.  As a way to provide other potential interns with insight into the program, Eddie agreed to answer a few questions about his experience.
What attracted you to apply for an internship at ALLBRiGHT 1-800-PAINTING?
I was looking at a lot of places when I was applying for a job. When I saw the ALLBRiGHT ad something about the flyer stood out to me. I sent in my application, and the very next day I got called in for an interview. I let everyone know I didn't have much experience in painting, and they told me they were willing to train me which I really appreciated.
What experience and skills did you acquire during your internship?
I learned about the different types of paint products, and how to use them. I also learned the importance of teamwork and how to work together to get the project done.
Briefly describe one memorable moment from your apprenticeship 
A memorable moment I have, is a moment I have every day. It is getting to work with the ALLBRiGHT team on different types of projects.
What are your goals for the future?
I would like to gain knowledge about the painting and carpentry industry, and continue to build up myself in the process.
Do you have any additional comments for others thinking about applying for our Paint It Smart program?
I would tell others it is the best job to have. ALLBRiGHT 1-800-PAINTING provides a positive atmosphere and they are great people to work with. I would tell them to go ahead, and give it a try.
What do you think of when you hear the word ALLBRIGHT?
Teamwork. I think of all the crew members working together as a team to get different types of painting projects done.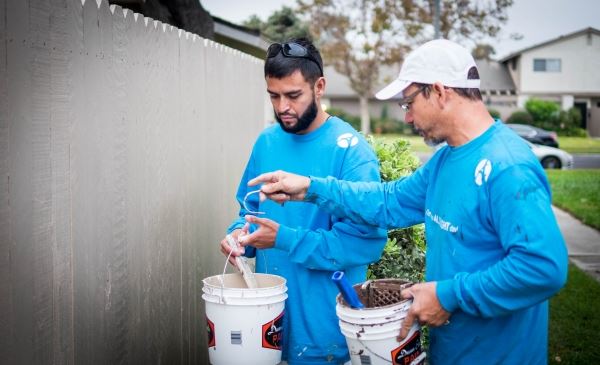 Josh Abramson adds "it has been such a joy seeing Eddie grow here at ALLBRiGHT!  His enthusiasm and pride in his work has been the two biggest things that stand out about him. It's infectious and the rest of the painting happiness team and our clients benefit everyday from his positive attitude. He really has taken his training seriously through our Paint It Smart program, and we hope to see many more 'Eddies' turn out just like him.
To learn more or apply for our summer internship program, visit our Paint It Smart page.