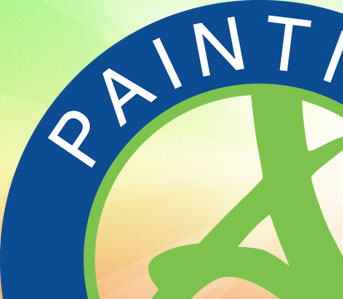 Recently ALLBRiGHT 1-800-PAINTING1-800-PAINTING was reminded how important it is to deliver on the experience our customers expect. Companies love to share and write about picture perfect success stories, but not many will choose to share projects where things didn't go exactly as planned. However, we have learned that it is how we respond to those challenges that determines a customer's level of happiness.
Project Details
Two-story townhouse located in Santa Clarita Valley, CA
Interior painting: mask, prep, repair wall texture, and paint new colors, 2 coats
Surfaces include: walls, ceilings, doors, baseboards, crown molding, closets and garage
Project Cost: $4,000
Well, it all started off great! The customer even called and left us this voicemail about how we've exceeded his expectations from the first call.
Listen to what Robin had to say:
But as Murphy's Law would have it, soon after the painting work had started, we dropped the ball on a couple of the project details. Our crew had not followed the instructions completely. These issues rarely happen, especially because we usually follow our own checklist procedures, but in this case, it did. The good news is we addressed it immediately! We met with the customer and responded by saying, "We're sorry!" and set out to quickly address their concerns. Even though we have systems in place to ensure our customers have the ALLBRIGHT Experience they expect, we're human and make mistakes. In this case, the customer ended up being very pleased and has stated they will be using us again for future work because of our professional response.
See the email transcribed below.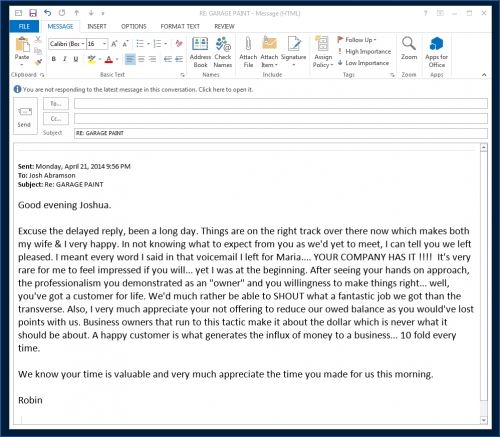 ALLBRiGHT 1-800-PAINTING1-800-PAINTING is strongly committed to our promise no matter how challenging the situation may be. We stand behind our Painting Happiness pledge and strive to keep our promise to you, our customers.
The ALLBRIGHT "Painting Happiness" Promise:
We will promptly return all telephone calls
We will start & finish your project on time
We will maintain a neat, clean work environment
We will provide a total commitment to all details
We will stand behind our work
We pledge an assurance of high quality
Voicemail recording transcribed:
I spoke with you earlier in the week about sending Jud out to my house today. I just gotta call because I am beyond ecstatic with the customer service, and I know people cannot wait to call and complain when they are unhappy, but people don't call when they are actually satisfied. I want to thank you very much. I am very, very, very impressed with him and your company. Everything that I dealt with in the 45 minutes when I met with him was fantastic, so thank you very, very much. You guys have it down, continue doing what you are doing because it's great. You are my painter of choice and we struck a deal so we are all set, but I just want to call to thank you for your professionalism for getting him out. He was also on time. Everything about it, your appointment availability to get him out on the day that I happen to be off was fantastic. You have taken all stress out of my project at my house. So just thank you very, very much. I will be talking to him shortly with the paint color options, but I just wanted to thank you personally for your help as well and pass on to whoever you can. My praises to your company and to him, fantastic. Thank you and have a great day.
Email transcribed:
Good evening, Joshua.
Excuse the delayed reply, been a long day. Things are on the right track over there now, which makes both my wife & I very happy. In not knowing what to expect from you as we'd yet to meet, I can tell you we left pleased. I meant every word I said in that voicemail I left for Maria…. YOUR COMPANY HAS IT!!!! It's very rare for me to feel impressed, if you will… yet I was at the beginning. After seeing your hands-on approach, the professionalism you demonstrated as an "owner" and your willingness to make things right… well, you've got a customer for life. We'd much rather be able to SHOUT what a fantastic job we got than the transverse. Also, I very much appreciate you not offering to reduce our owed balance as you would've lost points with us. Business owners that run to this tactic make it about the dollar, which is never what it should be about. A happy customer is what generates the influx of money to a business…10 fold every time.
We know your time is valuable and very much appreciate the time you made for us this morning.