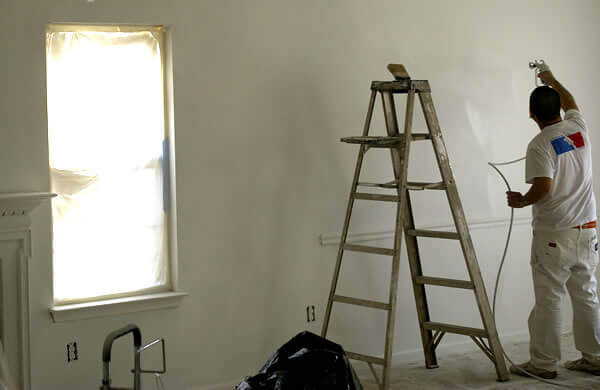 Do-it-yourself homeowners are always trying to find more effective ways to paint their homes. Looking to residential painters for their cues, many people wonder if using a paint sprayer is a good option. After all, it seems so fast and so easy, compared to brushing and rolling and all that. So is a paint sprayer a good option for house painting, or is that best left to professional painters?
First, a Word about Paint Sprayers
Having the right equipment is vital to doing any job well. Professional house painters use very high-quality equipment to achieve great results. Using a poor-quality paint sprayer will cause more frustrations than it solves. Low-end paint sprayers will leave a splattery finish, or they will paint so thinly that you need to go over the area again and again. Finally, cheap sprayers will often get clogged, and cause much more frustration than it saves. This does not mean you have to buy a professional-grade paint sprayer. You can rent paint sprayers at many locations that rent tools.
What Are the Advantages of Spraying a House?
Contractors often choose to spray the paint in a home because it produces a smooth, uniform finish in a short amount of time. Especially on intricate or detailed surfaces, like lattices, window frames and shutters, spraying on the paint is much faster and more effective than brushing. With proper taping and surface preparation, spraying produces fantastically straight lines.
What Are the Disadvantages of Spraying?
Spray painting in a residential setting requires exceptionally thorough preparation. All edges must be well-taped. All surfaces which are not being painted, including the ceiling, floor, furniture and light fixtures, must be carefully covered to protect against overspray. Another disadvantage to spraying is that it takes more practice to get good at it. Brushing and rolling are a little more foolproof.
Professional House Painter in the Los Angeles Region
If you are hoping for truly excellent painting results in your home, hiring a painting contractor maybe your best option. At ALLBRIGHT 1-800-PAINTING, we never cut corners. On each part of each project, we will choose whatever method is sure to produce the best results. When using a paint sprayer, we do all the careful preparation work that is necessary, to ensure you are delighted with the outcome! For residential painting in the Santa Clarita Valley, or the greater Los Angeles area, contact ALLBRIGHT 1-800-PAINTING.