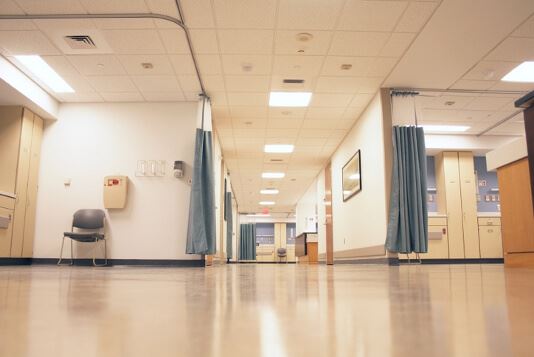 Experienced Commercial Painting Contractor
Painting a hospital or medical facility is a project which requires an experienced commercial painting contractor. Whether it's a hospital, laboratory, cafeteria, office, surgery, or consultation room, there will be important considerations necessary to maintain a safe environment and minimize any disruption or inconvenience. As a commercial painting contractor, ALLBRiGHT 1-800-PAINTING is knowledgeable and well-equipped to handle the challenges involved in painting a medical facility.
Good Communication
When planning your commercial painting project, it is important to have excellent communication so that the needs and priorities of your facility are understood. ALLBRiGHT 1-800-PAINTING is eager to help you with each stage of the job. With extensive experience in commercial/industrial painting and detailed product knowledge, we can help you to choose the materials that will be best suited to the unique needs of your medical facility. Our expert workers pay attention to details throughout both the preparations and the painting to ensure an excellent finished project.
Wide Array of Commercial Painting Services
Medical facilities have all kinds of needs, from electrostatic painting of metal equipment and fixtures, to epoxy flooring for bathrooms and cafeterias, to anti-static flooring for computer work areas, to antimicrobial flooring for sterile areas. ALLBRiGHT 1-800-PAINTING has all the necessary equipment, training and experience to perform these kinds of services and more!
Minimum Disruption, Maximum Safety
When painting a medical facility, we strive to minimize any inconvenience to the organization or patients. ALLBRiGHT 1-800-PAINTING Painting can accommodate your needs by scheduling work for nights, weekends, holidays, or round-the-clock. We strive to coordinate our work to complete the project efficiently.
The fumes and chemical odors typically associated with fresh paint can be especially undesirable in a medical setting. We are knowledgeable and experienced in low-VOC and no-VOC products. This can allow for both healthier and more pleasant air quality, even while enjoying a freshly painted environment.
It is also important to us to maintain a safe and tidy work area.
Top-Notch Commercial Painting
If your medical facility is in need of painting services or epoxy flooring, we would be honored to serve you. Please contact us with any questions, or to schedule an estimate.