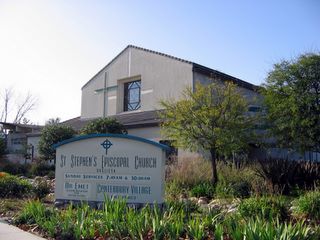 Though our work is commonly called "commercial painting," we often paint for organizations that are very non-commercial in nature, from charities to animal shelters to churches. One example of such a project was a church we did some painting for in Santa Clarita: St. Stephen's Episcopal Church, on Orchard Village Road.
The scope of our church painting project on this occasion was a storage building that needed some cleaning, restoration, and painting. After a brief cleaning, we were able to use a coat of premium flat latex paint to freshen up the color, which was the same color as the previous one. We also painted the eaves in the same color, after applying a full priming coat.
The fascia, doors, and patio cover were all painted in white, exterior latex paint, which made a great compliment to the walls. The last part of this job was to spot prime and repaint the metal bars which protect the windows. These had suffered some rusting over the years, but they are now thoroughly treated and protected from further rust.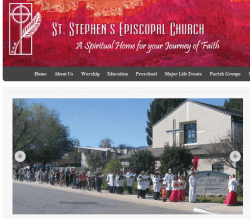 On an exterior painting projectlike the one we did for this church, there are a number of items we automatically include. Pressure washing, scraping and sanding are the best ways to remove dirt and any failing paint. We use specialized caulks to repair splits in wood or stucco, and then prime any surfaces where bare wood, patching or metal are apparent. We scuff any glossy surfaces, to make sure they will accept the new paint layers, and of course, we carefully cover all plants and non-painted surfaces to ensure a spotless cleanup.
If your church or other religious structure is in need of painting services, we would be delighted to serve you. We are respectful and courteous of your facility, especially in the case of buildings that represent your faith. We strive to provide premium service in every aspect of our work, ensuring that you are delighted with our painting services.
Learn more about our church and religious structure painting services here.