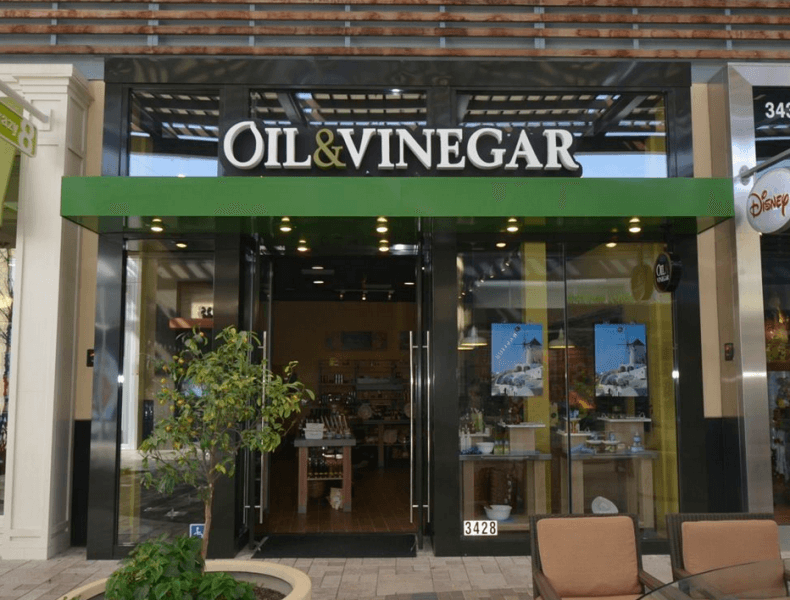 In commercial painting, every project has different requirements and specifications. For this job at the Patios at Westfield Town Center, one of the main concerns was time. The new store was behind schedule and needed to be open for business before the Christmas rush. Additionally, we were not the only tradespersons on-site, so we needed to coordinate our work smoothly with carpenters, masons and other construction professionals.
The name of the store is Oil & Vinegar, located in Valencia, CA. ALLBRiGHT 1-800-PAINTING was hired to paint the ceiling tiles, prime and paint some walls and doors, and install a premium wallcovering (provided by the owners). Before we began, we carefully masked the new floors to protect them from any damage. Then, we went to work!
In order to get the project done on time, we needed to put in some off-hours work. As a commercial painting company, we are accustomed to arranging our schedule to the needs of your business, so working some nights and weekends was not a problem.
Our work on this project was estimated at $3,400 for the labor. As soon as we were finished, we cleaned up our mess thoroughly, labeled all leftover paint for future touch ups, and our project manager inspected the work closely to make sure it meets our quality standards.
The result: the store opened in time for the holidays, and it looked great! Valencia, enjoy your Oil and Vinegar!
ALLBRiGHT 1-800-PAINTING Painting provides commercial and residential painting services to Valencia, the Santa Clarita Valley and the whole Los Angeles region. Our standards of excellence are never compromised, and your commitment to service is unparalleled! See our commercial painting portfolio to see our results for yourself!