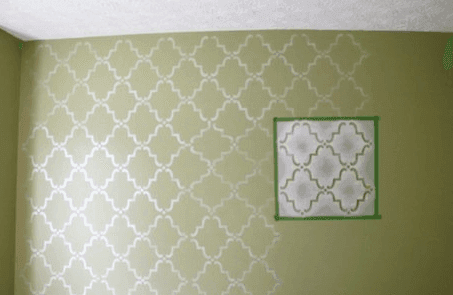 When color alone has reached its limit for individuality and class, faux-finishing is the next frontier! Decorative finishing has come a long way from the sponge painting and rag rolling of the '80s, with innovative ideas and beautiful designs cropping up regularly across the Los Angeles area. One great way to create an eye-catching effect is by working with a sheen to create patterned highlights.
The basic idea of this faux finishing technique is to paint the wall using a flat or eggshell sheen, then paint a pattern on the wall using a higher-sheen version of the same color. One method for doing this is to add glaze to the pattern paint, giving it a translucent, pearly sheen. Another option is to buy the same color in a satin or semi-gloss sheen. The greater the difference in sheen, the more noticeable and apparent the pattern will be.
A variant of this idea is to not only change the sheen of the pattern paint but to also make it slightly lighter or darker than the wall color. However you choose to do it, the effect will be similar; a subtle and sophisticated pattern that will evoke the appearance of high-end wallpapers.
Choosing the Pattern.
One popular trend in the Santa Clarita Valley is to make shadow stripes, which are wide, vertical stripes that allow for a variety of options. They can go on just one wall, or around the perimeter of a whole room. Also, they can stretch from floor to ceiling, or if the room has a chair rail, they can be on either the lower or upper portion. Use caution to measure your stripes and tape them carefully, checking the verticality with a level.
Another variety found in some high-end Los Angeles homes is to use a stencil to create a repeating pattern across the wall. This could be a classic design, such as the fleur-de-lis, an abstract design, or even a vertical or diagonal checkered pattern. Again, use caution when placing the stencil to make sure the pattern is regular, and paint the stencil using a small paintbrush.
One advantage of using this faux painting technique is that it achieves the same effect as certain wallpapers, but without the expensive hassle of removing it when you want something new.
ALLBRiGHT 1-800-PAINTING provides premium painting services to the Los Angeles area, including a variety of faux finishing techniques and mural painting. For shadow stripes, wood graining (faux-bois), stencils, murals, marbleizing, Venetian plaster and much more, contact us for an estimate.
Serving the Santa Clarita Valley and the broader L.A. region, ALLBRiGHT 1-800-PAINTING is your choice for superb residential and commercial painting.