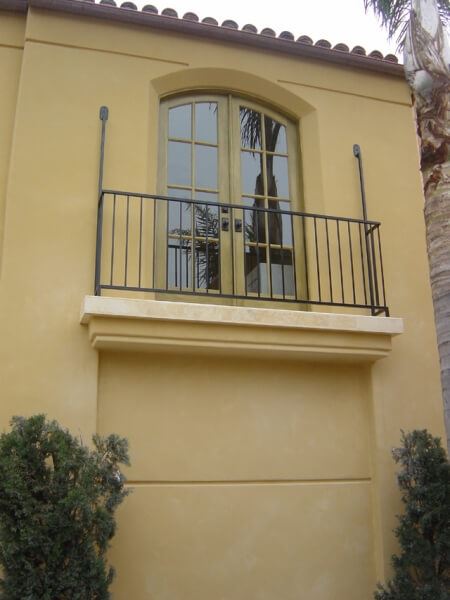 In this highly technological society where the "newest" and "latest" innovations are heartily sought after, the homeowner seems to be returning to an "old world" look and feel when considering room makeovers. The use of paint techniques along with room accents, antiques, and classic artwork can create a comfortable, classic feel. While faux finishes have been popular for some time, the handcrafted look of "Old World" stucco with lime wash paint is gaining popularity with professional painters and contractors. Limewash paint allows the painter or the homeowner to create a velvety, antiqued look on walls and while the walls seem to have texture, they feel smooth to the touch.
Lime paint, a mineral-based paint made from slaked lime and inorganic stable pigments, originated in ancient Rome in the 7th Century BC when the paint was used to embellish the outside of the home. Greeks and Romans also used lime paint in creating their famous fresco artwork, where they mixed earth colors with the lime plaster. Michelangelo and Raphael also used lime paint in their timeless creations, but in the 19th century, lime paint lost its appeal as new, fade-resistant paints were developed. However, today, lime paint is making a come back because of the beautiful faux effects and the classic look it gives a room. The lime paints of today are much more durable and are a desirable paint choice with paint professionals and the homeowner.
There are various methods to applying lime paint and each method will achieve a different effect. A more weathered-wall look is achieved by changing the direction of the brush so that it moves up and down in an inconsistent manner. On textured walls, small areas of the wall can receive a lighter covering of the paint so that some of the white peeks lightly through. And the paint can be diluted to create various color variations. One word of caution…whatever the particular painting style with lime paint, make sure your painter has studied and practiced the technique. In addition, the same technique must be used on all walls in the room to create a consistent look throughout.
While we forge ahead in the use of modern conveniences, we continue to look back to times past where there is a classic, comfortable beauty — one that can be replicated through the use of lime paint and some particular brush stroke techniques. The paint professionals at ALLBRiGHT 1-800-PAINTING are able to answer questions about various paint choices and techniques available to you.
View our lime wash portfolio here for more examples of our work.