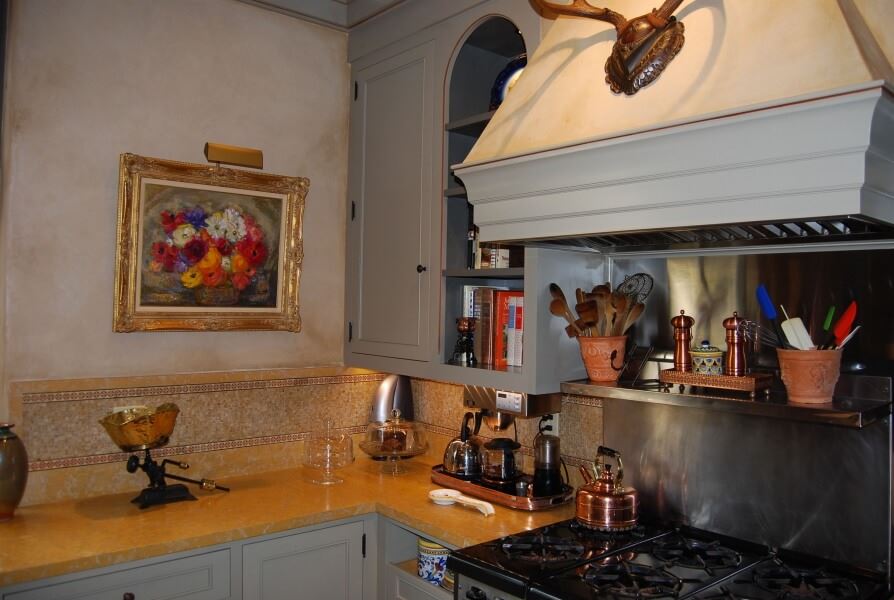 Repeat clients and referrals are the "bread and butter" for ALLBRiGHT 1-800-PAINTING. A recent kitchen makeover for a repeat client in Hancock Park made an already beautiful, museum-like home even more stunning. Before the makeover, the dark cabinet finish, white walls, and ceiling made the room seem small and uninviting. Once the transformation was completed by ALLBRiGHT's exceptional painters, the room was truly breathtaking with beautiful white cabinets, ceiling beams and a Venetian Plaster.
This project involved two parts: work on the walls/ceiling and work on the cabinets and molding. The walls and ceilings were repaired and primed as necessary and then received a Venetian Plaster (American Clay) in a matte finish. The existing wall texture "peeked" through the new finish and added to the elegant "aged" look. Finally, a custom colored glaze completed the wall finishing and provided some resilience for the walls.
The cabinetry and molding work involved covering and protecting surfaces not scheduled for work. The doors and drawers of all cabinets were marked and removed for painting elsewhere. Two sprayed coats of lacquer primer/undercoater (tinted to finish color) were applied to all cabinet surfaces, with a sanding process between coats. The open shelves and cabinet areas received the same treatment and were finished to match the doors and drawers. Two coats of solid pigmented satin lacquer in finish color was then applied to the doors, drawers, shelves and cabinet areas. Finally, two wall cabinet units, that are inset into the walls, received a variant shade of the cabinet color so that they would appear more as a piece of furniture instead of looking as if they were part of the cabinet structure. The moldings, baseboards and windows were primed and finished to match the cabinet finishes.
The added ceiling beams received a custom glaze finish and the contrast of the beam color to the ceiling color causes the eye to look up, creating the illusion that the ceilings are higher and thus, the room appears larger.
Mural painting, new countertops and decorating now highlight the stunning kitchen. Josh Abramson, owner of ALLBRiGHT 1-800-PAINTING, upon seeing the completed kitchen, was reminded "of how painting can transform a room."