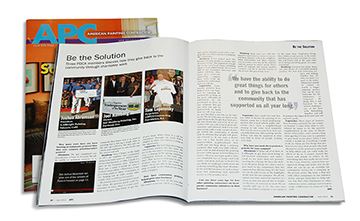 American Painting Contractor Magazine just featured an article on us for their June 2012 Issue "Be The Solution".  They asked us a few questions regarding our Paint-It-Forward program and the impact it had on our community.  Read below to learn more and watch the video of one of our winners!
How many years have you been focusing on community projects? How does your company prioritize/select projects? We just completed our seventh year of Paint-It-Forward. We ask the public to nominate someone or a nonprofit they know that is in need of painting but is having a tough time in life and can't afford it. We then ask our clients and employees to vote on the top five stories selected.
How have community projects helped grow your business? We hear all the time that the reason someone called us is because that person wanted to work with a company like ours that is involved in helping the community.
Why have you made these projects a priority for your company? It helps all of us here at ALLBRiGHT 1-800-PAINTING to get away from being so self-focused sometimes and understand we are more than just painters working for a living. We have the ability to do great things for others and to give back to the community that has supported us all year long. It's the least we can do and it's on one of the highlights of the year for our company. We all volunteer our time and work together as a team on that one special day to brighten the lives of someone in need. We are usually split up, so it's the only time that our whole company is on a project at the same time. Employees bring their children and spouses to the event and they get to meet everyone. It's very fun and festive and at the same time we're doing something great. It's super rewarding.