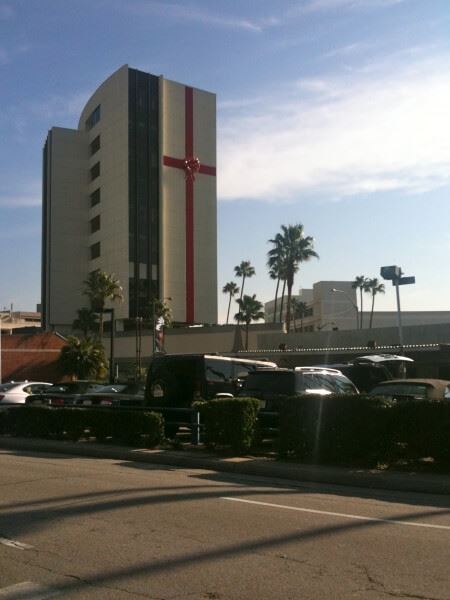 The holiday season is full of beautiful decorations and packages topped with bright red and green bows. One place you wouldn't expect to see a big red bow is wrapped around a 14-story building, but that is precisely what you will see at the corner of Santa Monica and Wilshire Boulevards. The Gateway Building is truly the "gateway" to Beverly Hills, California, and is a stunning testimonial to the excellence in painting that ALLBRiGHT 1-800-PAINTING offers to its customers!
The building owners have added the bow during the holidays, creating an amazing spectacle for all to see. This project offered us several challenges. As in any painting job, preparing the surface for painting is of utmost importance. All loose paint on the Gateway Building was removed with careful hand sanding and scraping. We couldn't remove all the dirt and grim the usual way using power washers due where the build was situated. So we used brooms and dust brushes to remove what we could.
Once the clean up was completed, the colors were chosen (by Philippa Radon, color consultant extraordinaire) and the cracks in the surface properly patched. A special coat of primer was used to encapsulate whatever contaminates were left on the surface. Next came two coats of the finishing paint. We used paint that was from Italy called "Quarzo Silossanico." This new technology paint is a very "green," environmentally friendly product made with silicon resin, quartz powder (silica), and titanium dioxide. This paint is washable and has high waterproofing capabilities. I'm told it's the first time this paint has been used in the United States.
The amazing part of this project is that my crews completed most of the work at night in order to not disrupt daily traffic patterns at this busy intersection. Large generators and enormous lamps were used to light up the night skies around the Gateway Building. And, as the lights shone brightly, the guys could be seen hanging from the side of the building on a "swing stage" moveable scaffolding device. The Gateway Building, which houses the offices of many lawyers and entertainment professionals, is a testimony to the excellent painting services offered by my ALLBRiGHT 1-800-PAINTING professionals. And the big red bow is an amazing final touch, shining brightly for the entire Beverly Hills community to see!
Learn more about our commercial painting services here.