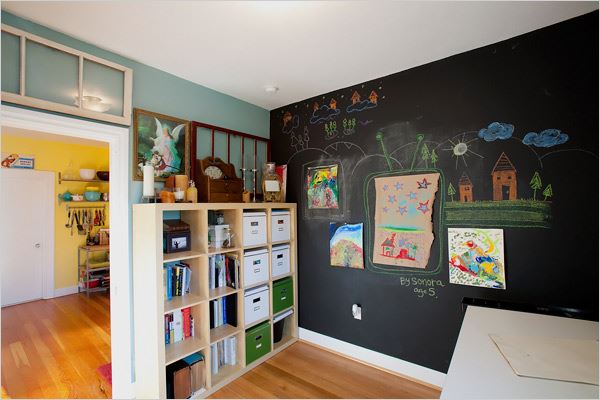 Chalk-Bored? Never!
From kids' rooms to coffee houses, chalkboard paint is a new-found trend with an old-school charm. Useful in the office, the kitchen, a bedroom or a playroom, chalkboard paint offers myriads of exciting possibilities!
At Work/Home Office
While coffee shops and bakeries are accustomed to presenting their menus artistically with chalk, other types of businesses can also create a trendy tableau with chalkboard paint. Create a wall space for brainstorming, memos, and reminders. Or make a kids' corner in your waiting room, so that children can be entertained while their parents conduct business with you.
In The Kitchen
The kitchen, in many Los Angeles homes, is already a creative center of the house, where culinary masterpieces are crafted and new ideas discussed. Chalkboard paint can add to this atmosphere by offering a new outlet for creative impulses. A place for recipes, fanciful doodling, phone messages, and to-do lists, a chalkboard in the kitchen can bring fresh inspiration to our everyday activities.
In The Kids' Areas
Parents looking for fresh ideas for painting children's rooms are also turning to chalkboard paint. Since children have a natural urge to create masterpieces, this gives them an appropriate canvas for their artistic expressions. Practice forming letters, drawing shapes, or recognizing colors—this was originally a schoolhouse item after all!
Design Ideas
In some rooms, a chalkboard wall would make a terrific accent, especially when livened up by brightly colored chalk. If this is too much, however, simply tape off a rectangular area and paint your chalkboard inside it. Be sure to use a level and measure carefully! When the black areas dry, use tape again to create a frame, and paint it some bright, coordinating color.
If you have any ideas or questions about chalkboard paint, ALLBRiGHT 1-800-PAINTING would love to help. We are not only a professional painting company, but we also provide nationally recognized design and color services. We are delighted to serve the San Clarita Valley and the greater Los Angeles region.