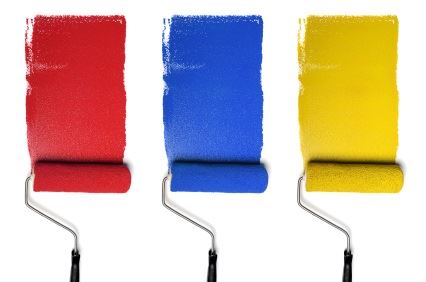 "What type of paint sheen should I get?" The answer depends on where the paint will be applied and the general purpose of the painted surface. Here are some very helpful tips to keep in mind to help make the selection easy.
Flat Paints
The most commonly used sheen in homes is called a flat or matte finish. Most flat and matte finishes tend to have no shine at all. However, there are a few brands of flat paints that tend to leave a very slight shine to them, due to the amount of acrylic resin in the paint. Flat sheen lends itself well to ceilings, formal dining rooms, and large contemporary rooms with lots of natural light. Flat, or sometimes called matte, finish really do look the best for walls if you are trying to hide defects in the wall. Also, if you have a lot of artwork on the walls, flat sheens look great.
Satin Paints
The next selection of paint sheens has several different names depending on how much shine the paint has when it dries. Several names you would see in the paint stores are "Egg-shell," "Low-Sheen," and "Satin." Typically, these paints are far more scrub-able than the standard flat finishes mentioned above. This tends to be the main reason homeowners decide to use one of these types of sheens. Satin-type finishes look great in areas that do not have a lot of natural light, closets, hallways, and stairwells, and, of course, your kids' rooms. Most satin finishes are found on walls only, not ceilings or wood surfaces. However, some homeowners will opt for painting their baseboards, doors, and trim work with a satin finish. If prepared and painted correctly, trim and fine woodwork can look beautiful with a satin finish – even kitchen cabinets.
Gloss Paints
The last types of sheen are known as glossy paints. On the paint shelf, they are labeled as "Semi-Gloss" and "Gloss." Typically, the semi-gloss gives off a shine of 65%-85% compared to gloss at 100%. Gloss paints are difficult to work with and are best applied by a professional painting contractor. Semi-gloss is the number one choice for most homeowners for bathroom walls, kitchens, laundry rooms, rental properties, and, of course, woodwork.
Selecting the right paint sheen is a matter of personal preference. Some of us love flat. Others have to have semi-gloss on every wall! If you are unsure of the types of paint and paint sheens, ask us. We will give you some professional advice.