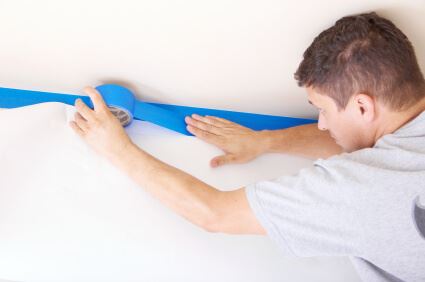 Painting a bedroom typically is not an enjoyable or relaxing home project. However, with the right supplies and professional tips from a reputable paint company, painting a bedroom can be made to look easy, and even fun! Below we will share 3 basic steps to painting a bedroom: 1) The preparation, 2) When to prime and 3) the type of paint you should use.
The first step is what professionals call "dull glossy surfaces." If the walls have a semi-gloss or satin finish, sometimes a little bit of sanding is a good idea to make sure the paint will adhere. To dull the surface, you can use 220 grit sandpaper and lightly sand the walls and any woodwork.
The next step is the surface prep and the use of proper supplies. For drywall, start with cleaning the walls and ceilings as needed to remove any surface dirt, cob-webs, or other unwanted stickiness and oils. Sometimes hot soapy water will do the trick to avoid harsh chemicals. For more thorough cleaning, Simple Green, Multi-Purpose cleaners, or TSP will do the trick.
Once the cleaning has been done and the walls are dry, begin filling all nail holes and patching any damaged drywall areas. Nail holes and very small dings and scuff marks can be removed with a product called "Lightweight Spackle." For small nail holes, typically you don't need a putty knife. You can just use your fingers to apply the Spackle and wipe the excess Spackle away leaving the nail hole virtual unnoticeable. For larger holes and patches, you will need to use a patching kit from your paint or hardware store and drywall compound.
Priming walls prior to painting can be helpful but not typically necessary. Priming is used when there is a dramatic color change, to block stains or when lots of patching and repairs have been done. Otherwise, priming does not need to be done. If you do have a lot of holes that were filled or patches, it is best to prime the whole wall and not just the patches. If this step is not performed and you only prime the nail holes and small patches, the final coats of paint, in the end, will not look as uniformed. In the right light, you will see the primed areas, which will not be very impressive.
For the best washable finish to your walls, it is best to use a top-quality latex (or acrylic) paint that can be applied on drywall and plaster surfaces. Most washable finishes tend to start at the egg-shell level, then satin and semi-gloss. However, a few quality flat finish products are available on the market today that boast very good wash-ability. Flat looks the best with medium and dark colors but tends to be harder to clean.
If you have a question about the best paints and preparation productions to use, ask A Allbright. We have actually started a program that we call "Painting Parties." If you enjoy painting and do not want to hire a professional to paint a bedroom or other areas around your home, our Painting Party option would be perfect. For a very small fee, we will provide you with all the supplies necessary to complete your painting project from prep to the final coat!