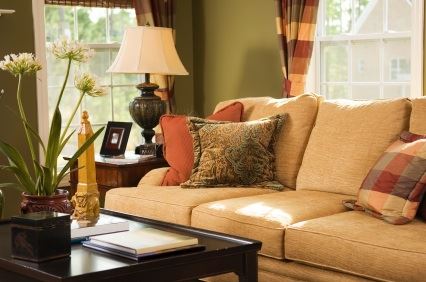 Now that you have returned from all your summer activities and are winding down preparing for the fall season, there is no better time to begin planning your next painting project. Fall is a beautiful season for us in Santa Clarita, even though we do not experience the dramatic changing of weather like our East Coast friends. We can still enjoy the changing of leaves, a few sprinkles of rain, and the relaxing and cool evenings at home with our family as we prepare for Thanksgiving and other special holiday events.
Below are a few tips for what can be done this fall in your home.
Living Areas
Take a quick look around your living areas and select a room that is very neutral in color and décor. If you plan on spending a lot of time this fall reading, playing games or fellowshipping with friends and family, consider a color and design change that will bring in a warm and inviting look and feel. A few paint colors to think about would be charcoal, warm-green tones reminiscent of soft sage, and mossy forest greens accented with rich autumnal colors. A small amount of white is still ok as well, but maybe go for a soft creamier color instead. How about a hint of the darker wall color for a real contrast? The colors you select do not need to be just for your walls. If you are not ready for a dramatic color change, you can paint the walls a light Java color and warm up the rest of the room with accessories such as pillows, throws, curtains, curtain rods, lamp shades, inexpensive area rugs, and even couch covers.
Office or Den
Most offices, dens and work areas tend to be painted the standard off-white, khaki or even taupe. This fall, try to think outside the box and go for a bolder new look. If the office is for the man of the house, try a deep blue color (it's a big hit now and replaces hunter green), which works so well with a chocolate brown color and is very masculine. If you would like to make some fall changes to your home but still are unclear on just the right paint color or accessories to use, contact ALLBRiGHT 1-800-PAINTING. We provide color assistance and quality painting services.