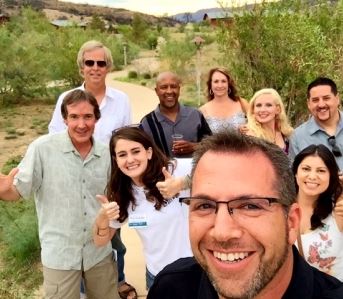 A few months ago we were invited to help support a fantastic program called The Painted Turtle. Even more recently, Josh Abramson (owner of Allbright 1-800-Painting) had the opportunity to be present at a benefit that explained in more depth the power and value of this unique place.
Originally co-founded by Paul Newman in 1999, The Painted Turtle is a camp that was created with a singular and powerful vision: to offer children with chronic and life-threatening illnesses the chance to simply be kids.
Fully staffed and equipped with needed medical equipment, this year-round haven gives ill kids a place where they can play, sing, make memories, and love life. And, all of this is offered at absolutely no charge.
Needless to say, when we were invited to help out, we leapt at the opportunity.
Offering Our #PaintingHappiness To This Wonderful Place
In addition to a monetary donation, we also offered a free Painter for a Day (a $500 value) to create a custom room makeover. We'll continue to help out however we can moving forward!
How about you?
If you'd like more information about The Painted Turtle, please just look here. Or, to place a donation of your own, click here. This is certainly a cause worth supporting.
If you have any questions about your own painting needs, why not contact us at Allbright 1-800-Painting? Spreading #paintinghappiness is what we love to do, wherever and whenever we can.