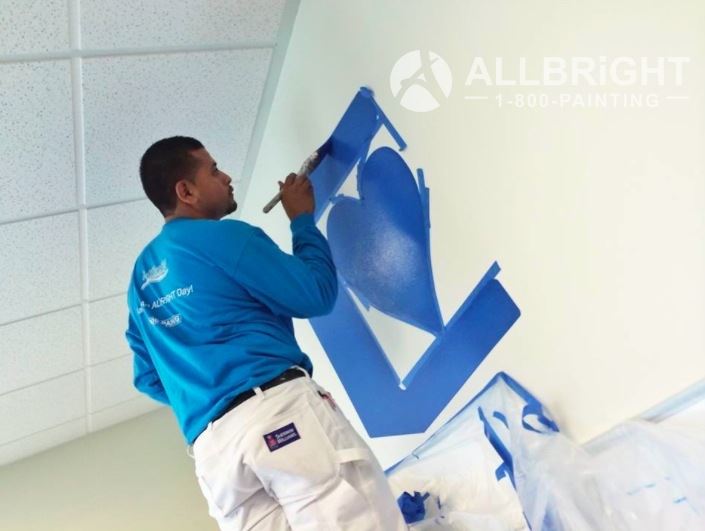 At Allbright 1-800-Painting, we try to find ways to spread painting happiness wherever, whenever, and however, we can. This is definitely done through the transformative power of fresh colors and quality repairs, but it's also done through the product options we offer.
One example of this is the use of low-VOC paint. So, what exactly is low-VOC paint, and how can it benefit your commercial office or other work environments? Great question!
What Is Low-VOC Paint?
There is a longer answer that involves the paint's chemical composition, but let's stick with the shorter version for our purposes here. VOC stands for Volatile Organic Compounds, and they essentially are the part of your paint's formula that allows it to stay in a liquid state until it's applied (nobody wants to find a solid cylinder of paint hiding inside their can). After you roll that beautiful new color into place, the VOCs evaporate and can cause that fresh paint odor.
While this smell might not be an issue in some environments, we know that it can be a factor for others. Low, or zero, VOC paint is specifically developed to offer little to no odor, and be environmentally friendly as well.
So, Why Do We Offer Low-Odor Paint Options?
In short, we know that in a commercial setting it is hugely important for your operations to be able to return to normal as quickly as possible, or simply not be impacted at all. And, while we believe that new paint should be seen and appreciated, that doesn't mean it needs to be smelled too.
Are You Looking For A Commercial Painter In The LA County Area?
If so, it would be our pleasure to serve you! We offer a wide variety of commercial services and are dedicated to making sure you are absolutely thrilled with the finished product. Why not contact us today?