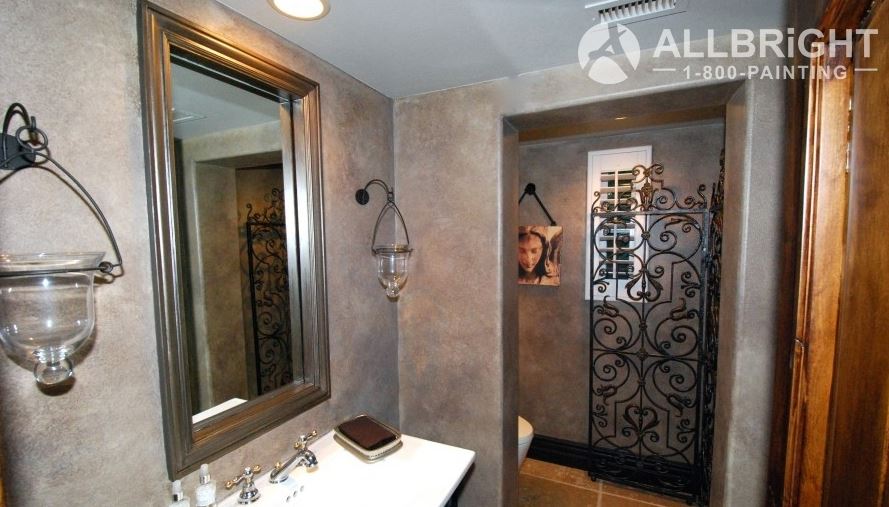 Interest in bathroom paint and design has enjoyed a huge upswing in recent years. This is largely because the bathroom is no longer seen as a utilitarian kind of room that you just visit when you need to, but instead is looked at as a space that can be nothing short of an in-home relaxation suite.
This makes sense! We live in an increasingly hectic, noisy world, so the value of being able to go home, lock the door, and unwind is tremendous.
Your bathroom's paint, since it's located in such a unique room, has very specific demands placed on it every day. Because of this, when you are going about the process of choosing your next color scheme, it's important that you pick a paint that is really up to the task. There are some specific design and product considerations you can make that will help your paint to shine to its full potential!
Choosing And Protecting The Paint In Your Bathroom
Select the right gloss – Remember how we mentioned those specific, unique demands that the bathroom environment makes of your paint? These include steam, the need to be dried occasionally, and the general wear and tear of a high-traffic room. A semi or high-gloss paint is generally a good option! These higher sheens are not very forgiving toward blemishes in your wall, making wall prep even more important, but they also are incredibly sturdy.
Do you need specialized bathroom paint? – Especially if you like a good, steamy shower, using a specialized formula that can resist mold and mildew might be a good idea. If yours is a half-bath, on the other hand, or maybe a second bathroom that isn't used very often, a bathroom-specific paint shouldn't be necessary.
Ventilation – The value of a powerful ventilation system can't be overstated. Air exchange will help to keep your paint fresh, and lower the risk of harm due to condensation and trapped, moisture-laden air.
Lighting – If you have quality bathroom paint, why let shadows and dark corners hide your colors, or create the illusion of an uneven finish? Bright lighting will help to showcase your beautiful walls!
Do You Need A Professional Painting Company?
At Allbright 1-800-Painting, we are ready to step in and help, transforming your space from a room to an Allbright room! Why not give us a call? We would love the opportunity to discuss your project with you, and we will make sure that the perfect products are used to meet (and exceed) your painting goals.